Last Updated on June 6, 2021 by Kristi Linauer
I may have taken last week away from the blog, but y'all didn't miss much. It took me until Friday to finish my front porch steps and railings. But all of that tedious finish work was so well worth the effort, because I absolutely love how these steps and rails turned out!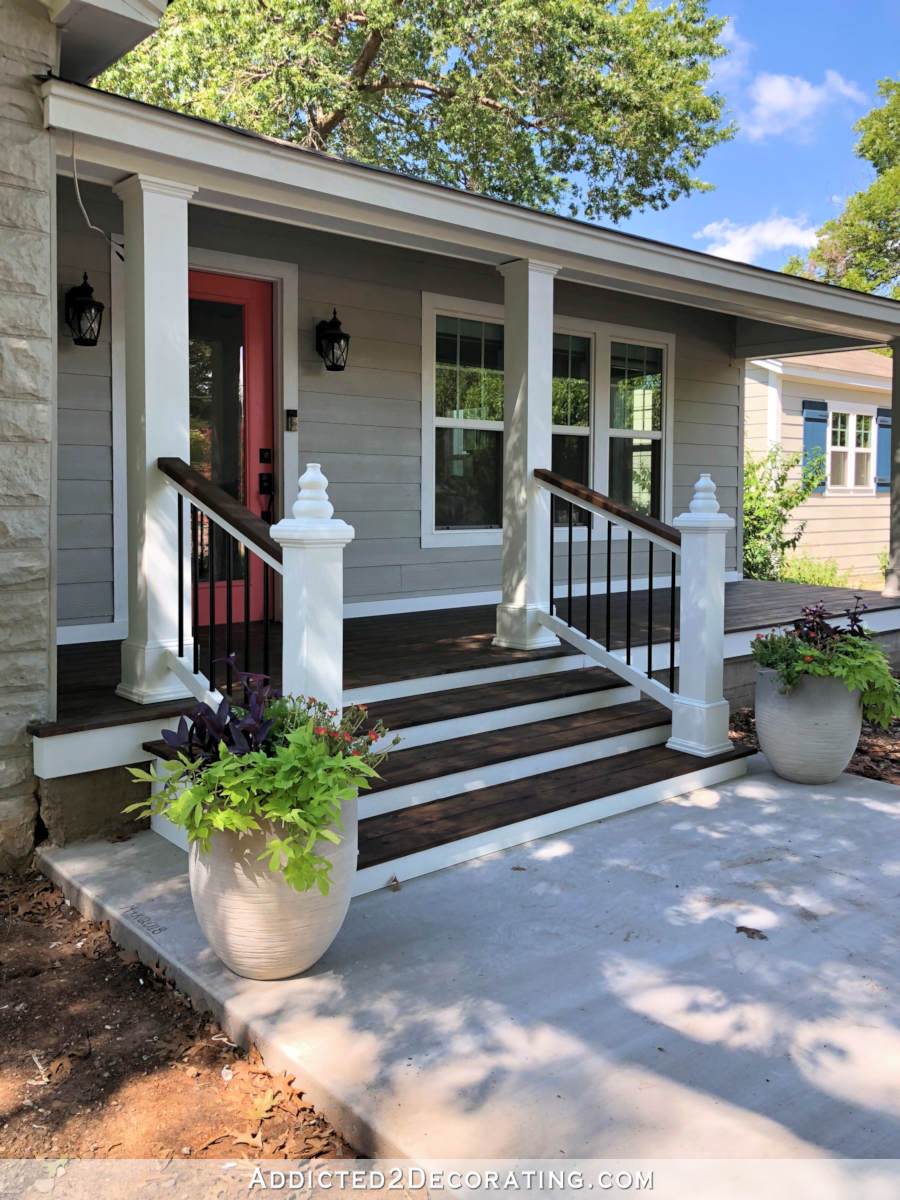 You probably noticed that I have a rogue wire hanging down on the side of the left column. I plan to add rope lighting along the front of the porch roof (it'll be tucked away so it can't be seen), so I do still have a few finishing projects that I still need to do on the porch.
But what a relief to have the steps and handrails finished!
If you missed any of the previous posts on this project, you can find them here:
At the end of that last post, I was so close to being finished with the building process, but I still had some trim to attach, plus I still needed to figure out how to cap the posts. Here's how they looked then…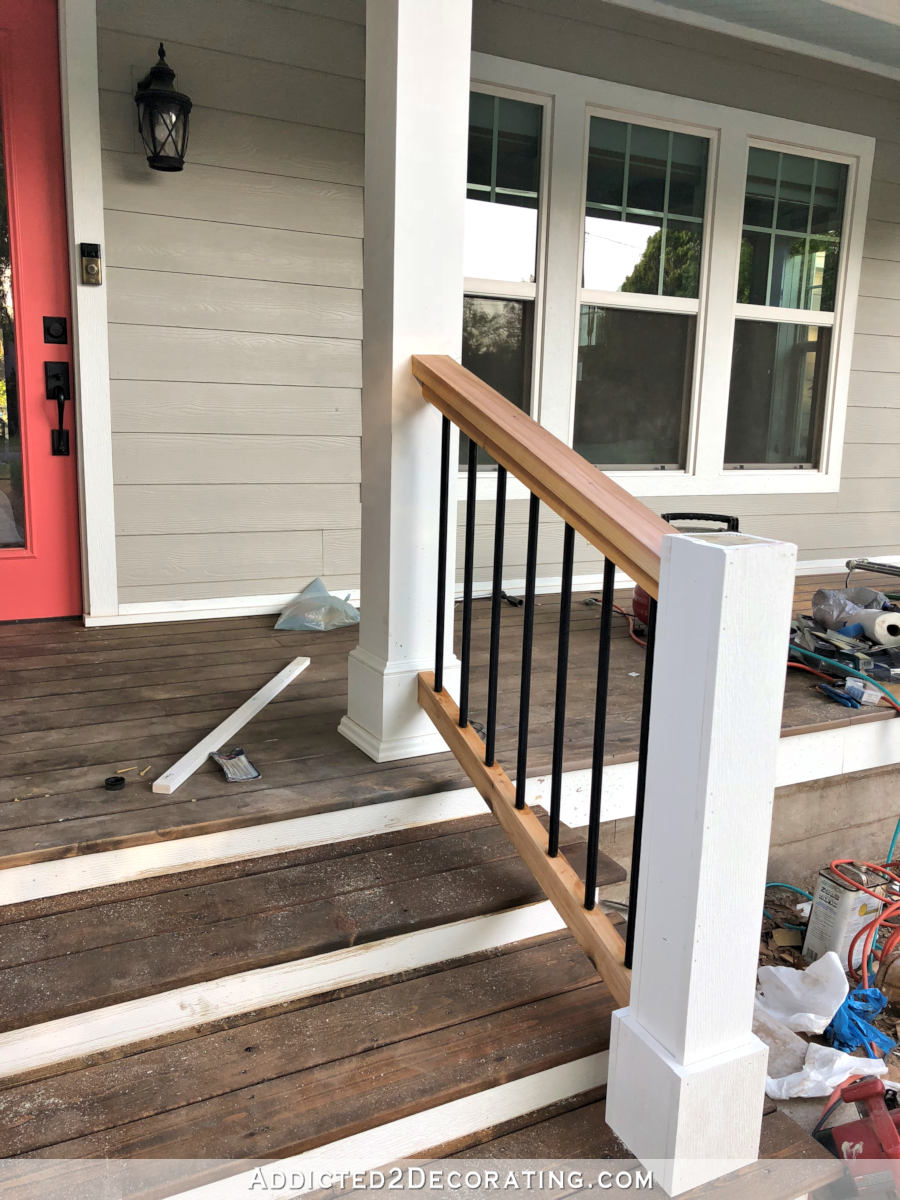 The only ready-made caps I could find at the local big box stores were for 4 x 4 posts, and since I had wrapped my posts with PVC boards, they were now about 5 1/8 inches square. And since I didn't want to order something online and wait for them, my only option was to make my own post caps.
Using my speed square (this is a speed square, by the way), I marked a line all the way around each post at 38 inches from the step. Then I used those marks as guides to attach PVC base cap, which I mitered on the corners and installed upside down using PVC adhesive and 18-gauge finishing nails.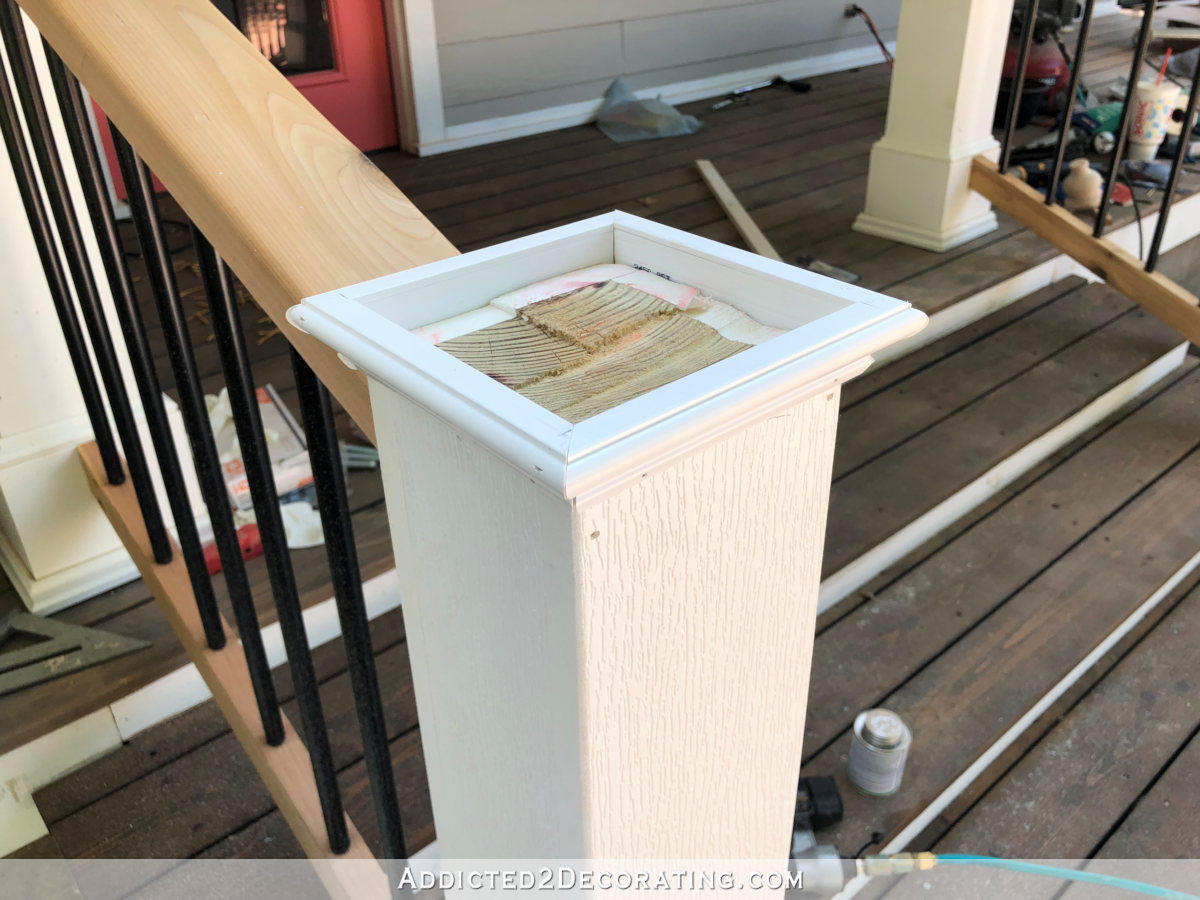 Next I cut two pieces of PVC board that were six inches square. I then ran one of them through the table saw on all four sides to cut the edges at a 30-degree angle, and then I adhered the two pieces together with PVC adhesive.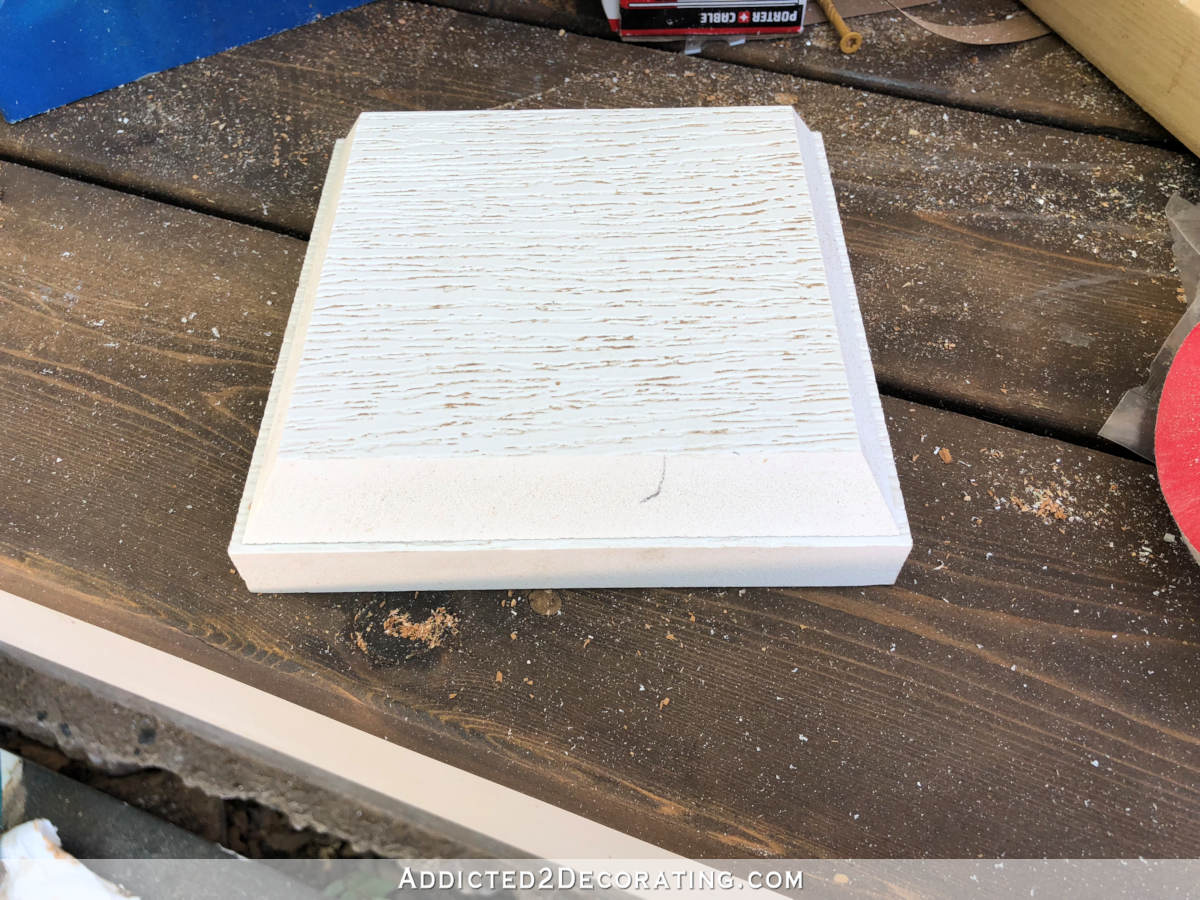 Around the bottom piece, I attached some pretty PVC moulding, mitered on the corners, and attached with PVC adhesive and finishing nails.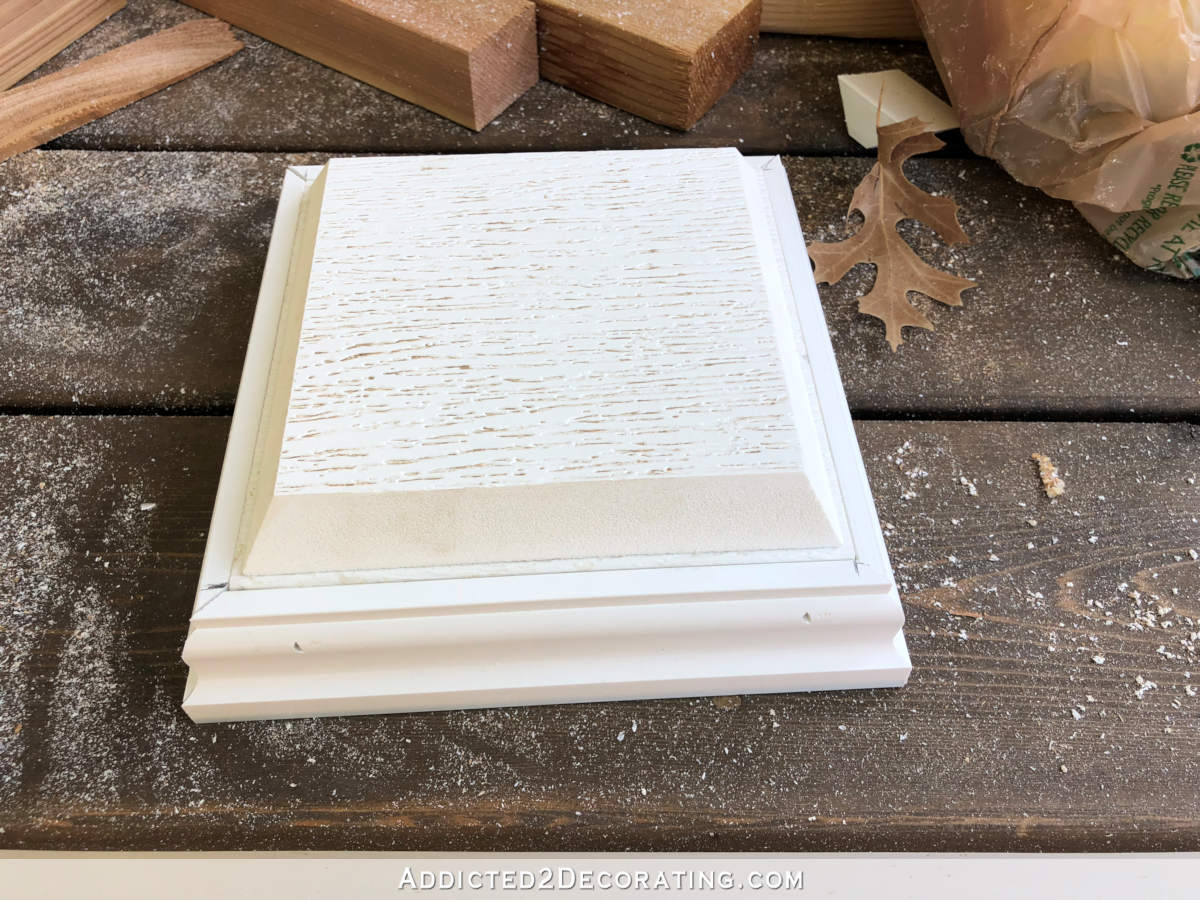 Then I used some 150-grit sandpaper to smooth and round all of the sharp edges on the top piece. I started the sanding using my electric sander (very carefully on a low setting!), and then finished by sanding it the rest of the way by hand.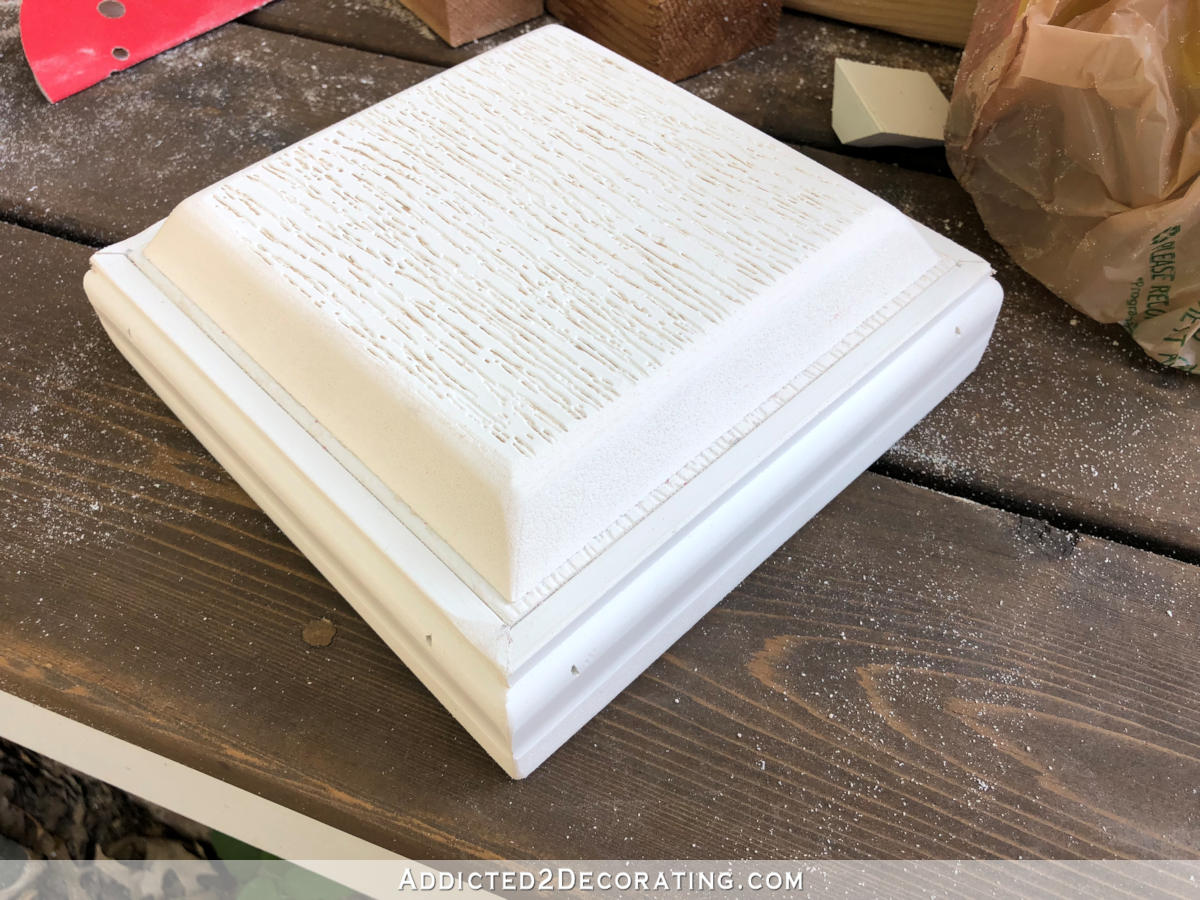 And finally, I needed finials. I looked at all of the locally available, ready-made finials for outdoor posts (all of those three styles available locally 😀 ), and they just weren't what I wanted. I had in mind something made of turned wood (naturally, because I love turned wood), but I wanted them kind of big, fanciful and whimsical. I didn't want a standard run-of-the-mill finial.
I found loads of big finials online, but I didn't want to wait for an online order to arrive if I didn't have to, plus they were anywhere from $40 to $80 each, which seemed ridiculous to me.
So I decided to try to think outside the box and make my own fanciful finial. I decided to use two styles of furniture feet, both of which I found at Lowe's, and stack them. One of them was just a big, round bun foot. The other was this turned foot. I did some sanding to round the flat bottom of the foot. The one on the left is what it looked like before sanding, and the one on the right is what it looked like after sanding.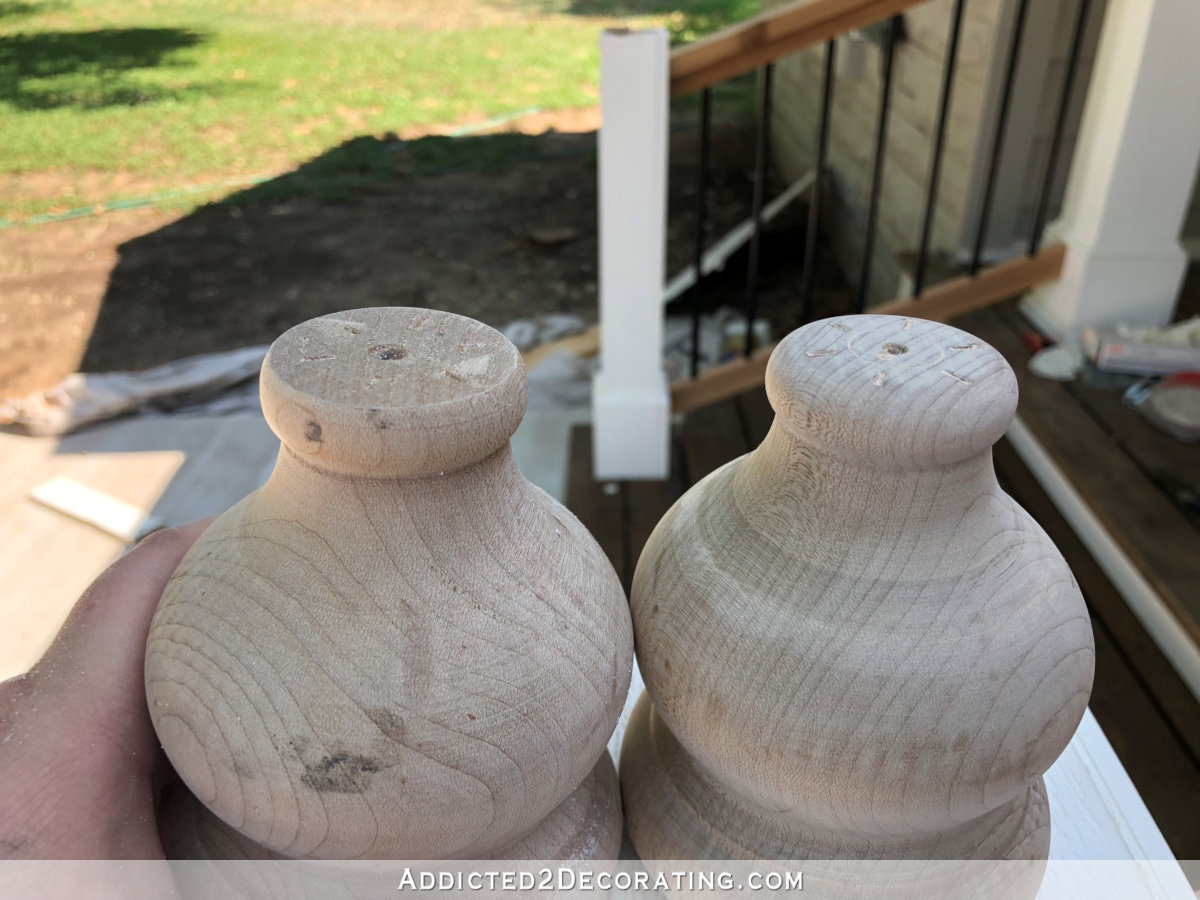 So with all of my pieces ready, I could then finish up the post caps and finials. First, I attached the two-layered cap to the top of the base cap that I had already attached to the posts. And then I drilled a hole in the center of the cap and screwed on the big bun foot, and then on top of that, I screwed on the turned foot.
And with all of those pieces put together, wood filled, sanded, caulked, and painted, this is how it turned out…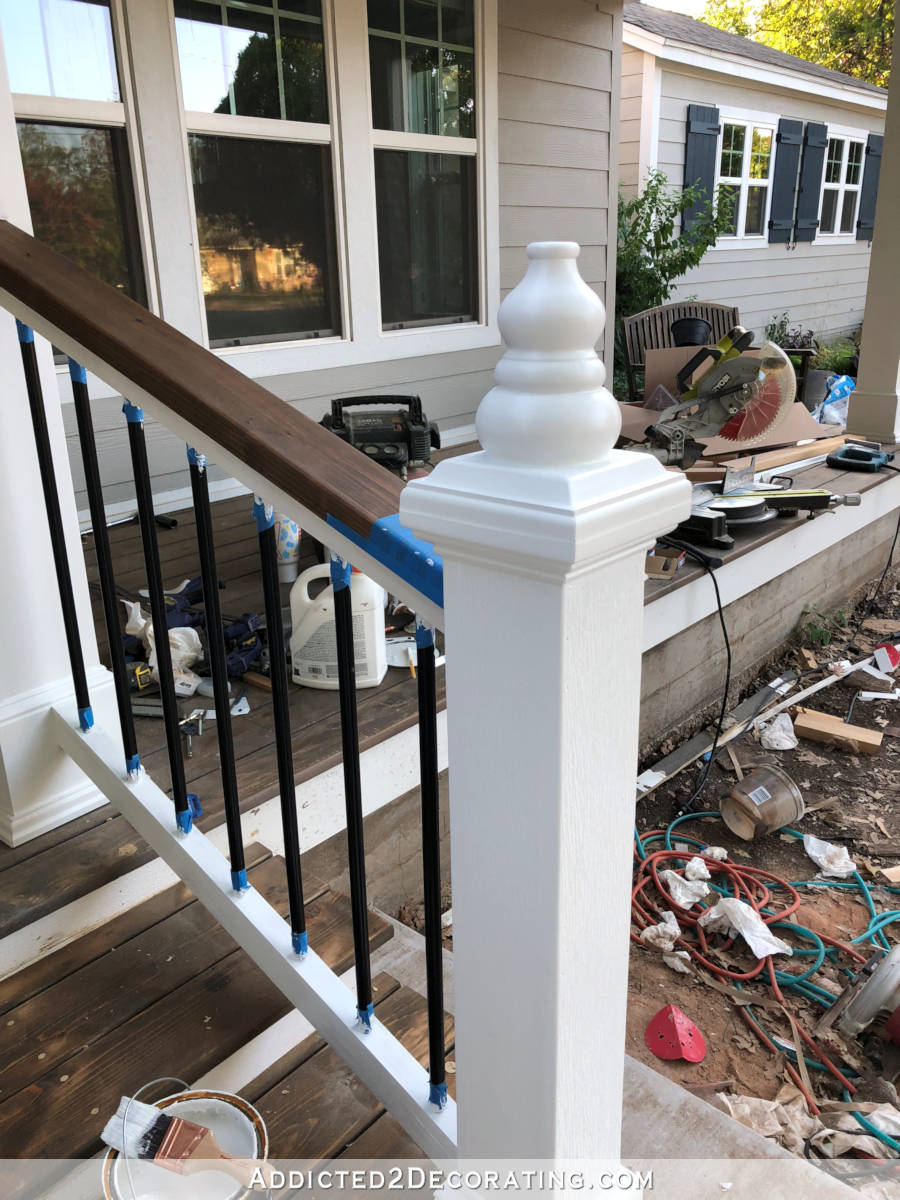 I'm a VERY messy DIYer, as you can see. 😀
So I got my big fanciful, whimsical finials without paying $40-$80 each. These were more like $20 each.
And I love that they look like soft serve ice cream cones. 😀 It's too bad they don't have that curlicue thing at the top like a real soft serve ice cream cone! Maybe I'm strange, but I'd love that. It would make me giggle every time I walk by it. But even without that curlicue on top, I still smile every time I see those big ice cream cone-esque finials.
After all of the wood filling and sanding and caulking and painting and staining, here's how the railing turned out…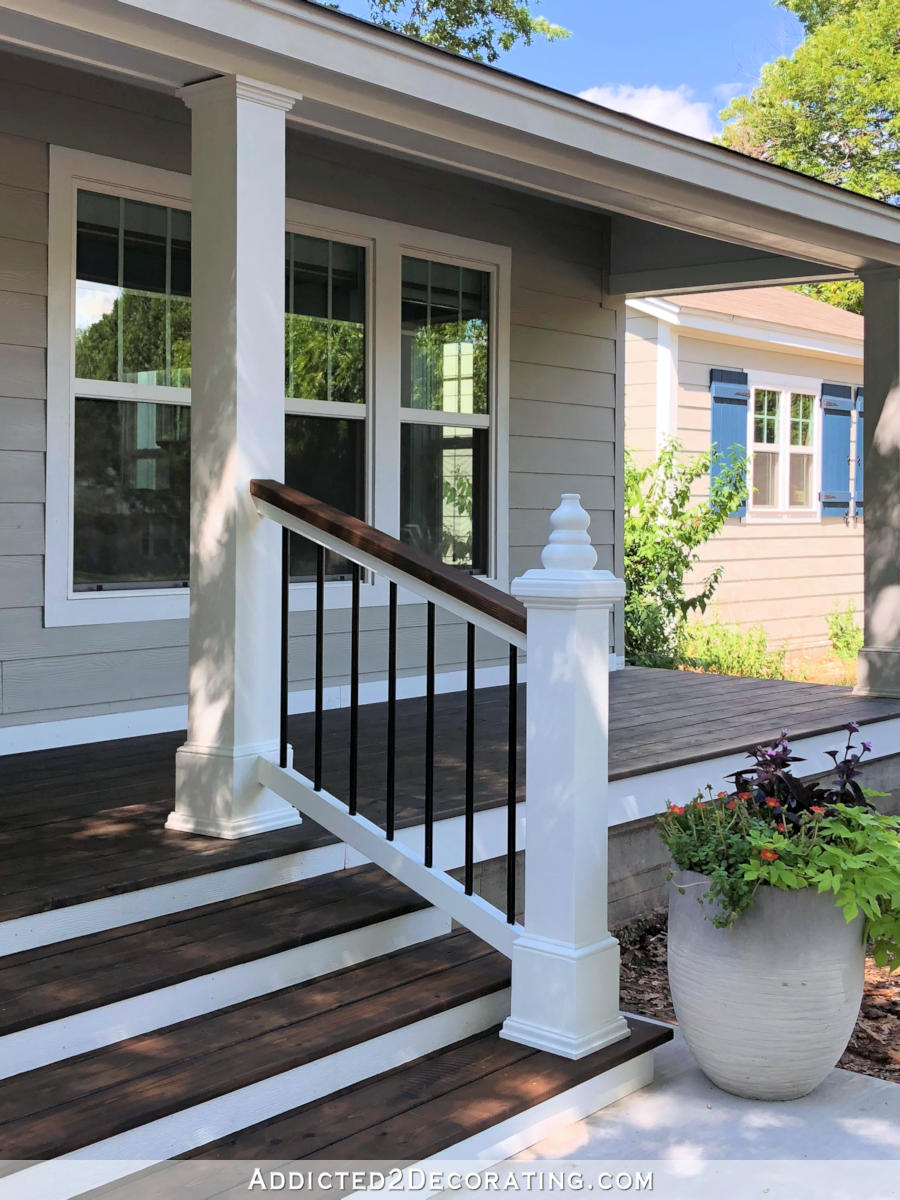 The combination of the white post and supporting rails plus the black balusters plus the stained handrail looks just like I had hoped it would. I like how the black metal balusters tie in with all of the other black accents.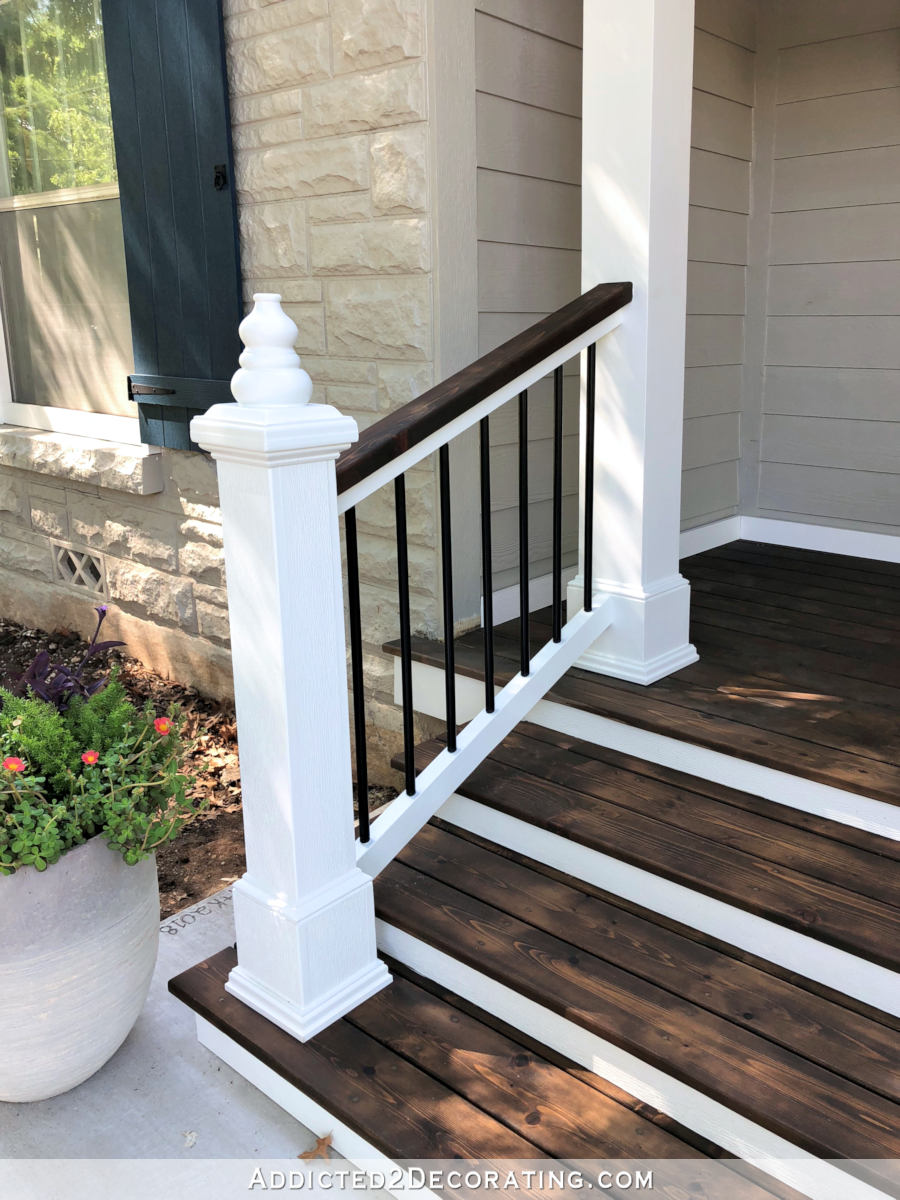 I'm just so glad this project is finished, and I'm so proud that I pulled it off, quite frankly! I've never build steps before, and while I knew I could build steps in general, I was so worried that my calculations and measurements would be off and I'd end up with wonky handrails or something. But everything seems to have lined up just like it was supposed to. What a relief!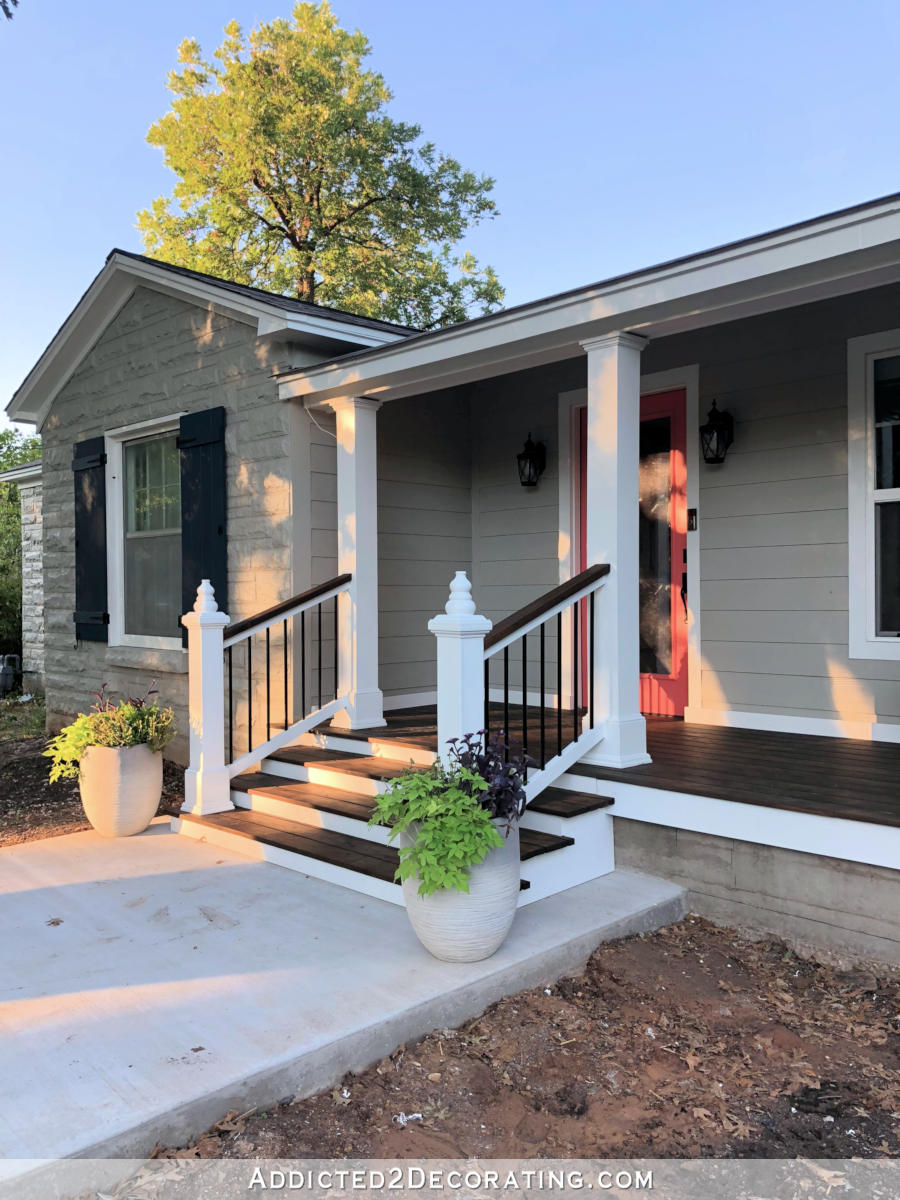 And I love the wide steps.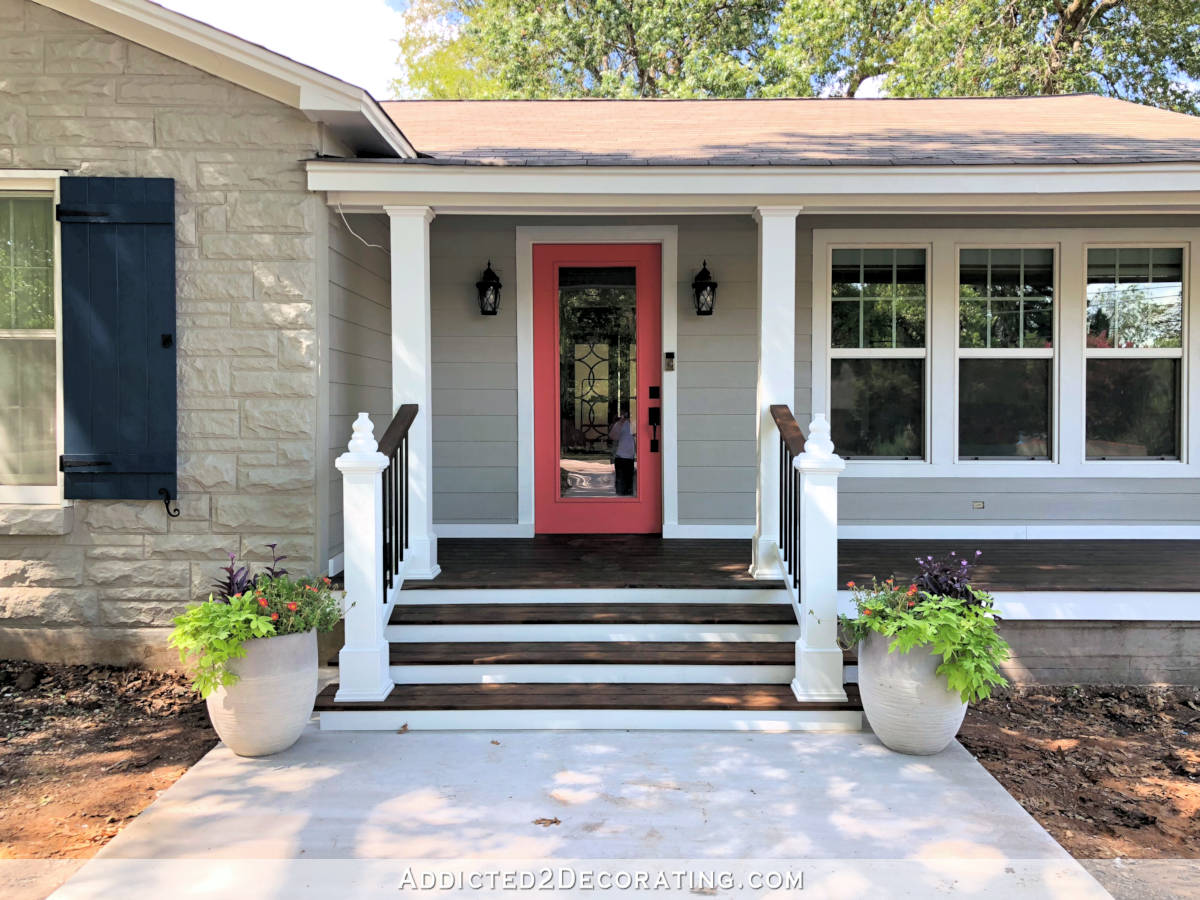 They look so much more inviting and welcoming than the original narrow concrete steps.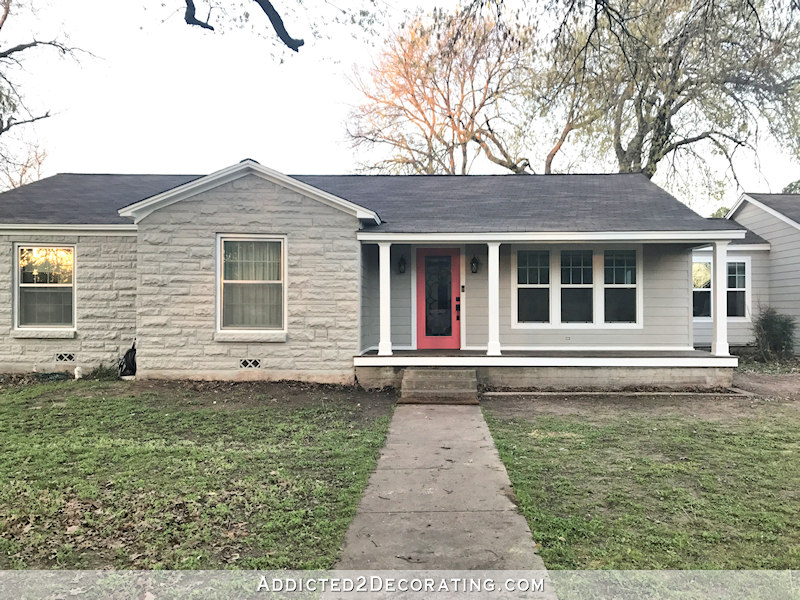 Of course, the entire porch was nothing special when we bought the house.
This little front porch has come a long way!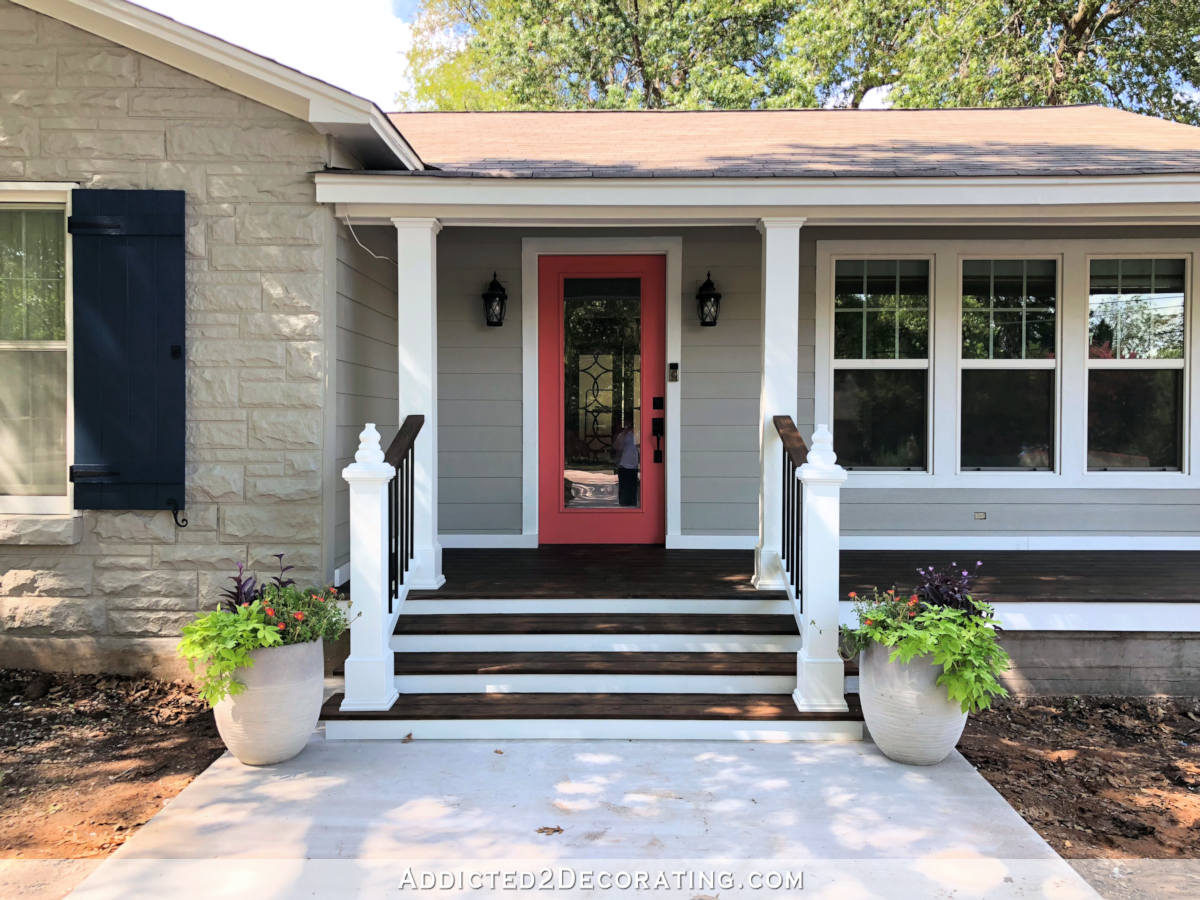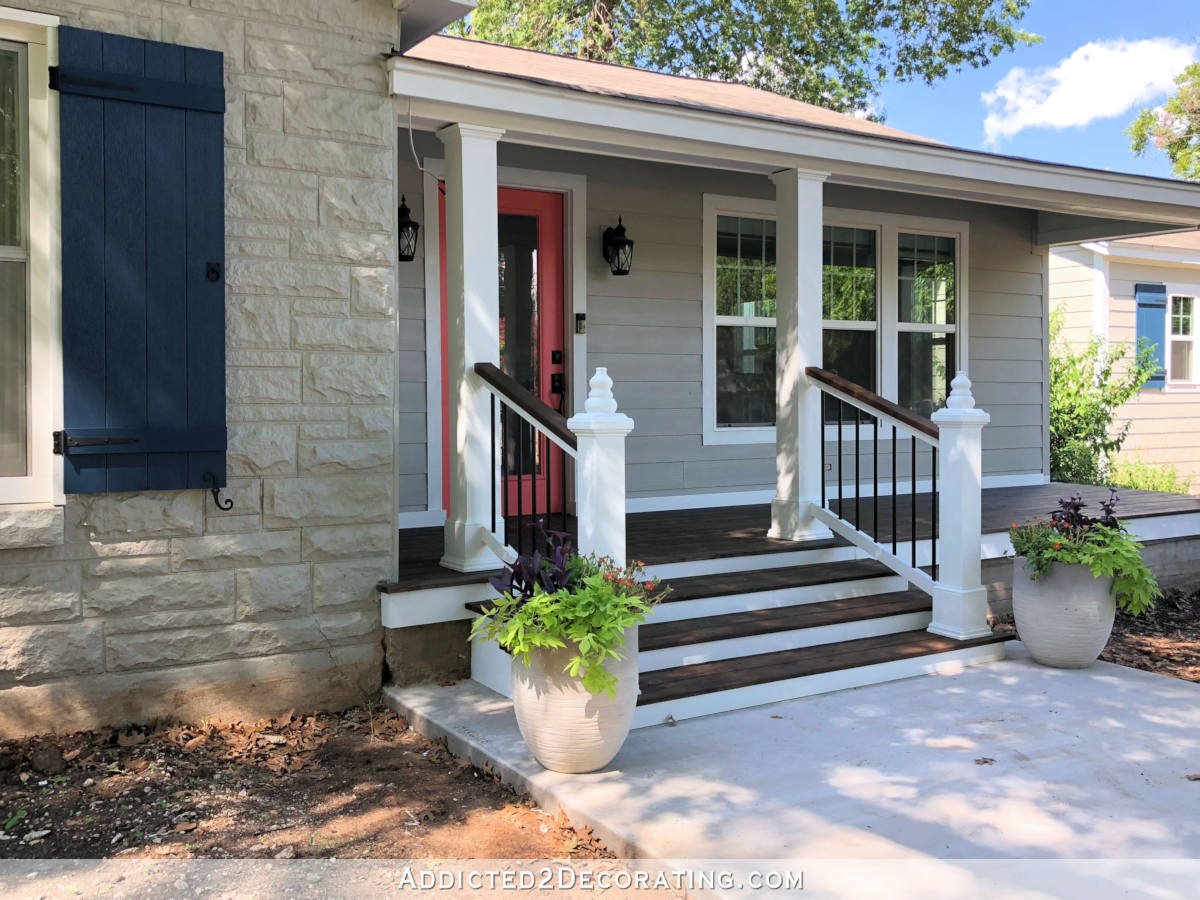 If you've missed any of the previous projects that have gone into this front porch makeover, you can check those out…
And don't forget to pin this post if you have porch step-building in your future! 🙂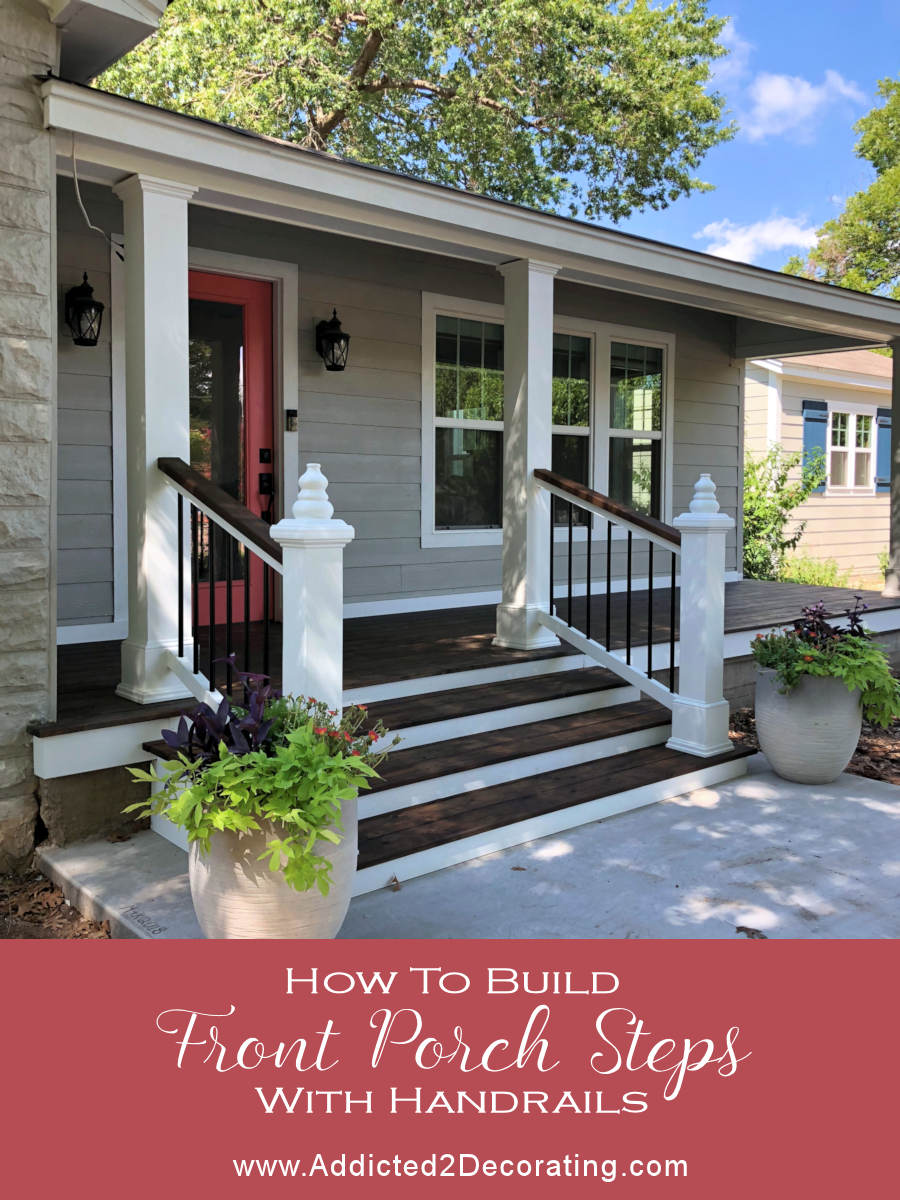 Addicted 2 Decorating is where I share my DIY and decorating journey as I remodel and decorate the 1948 fixer upper that my husband, Matt, and I bought in 2013. Matt has M.S. and is unable to do physical work, so I do the majority of the work on the house by myself. You can learn more about me here.
I hope you'll join me on my DIY and decorating journey! If you want to follow my projects and progress, you can subscribe below and have each new post delivered to your email inbox. That way you'll never miss a thing!