Last Updated on June 5, 2021 by Kristi Linauer
Y'all, I'm so excited. Remember last week how I mentioned that for now, I'm moving on to the hallway, and in the meantime, we would hire out some work in the breakfast room so that I could hopefully get some work done in there by the end of this year? Well, that plan has been expanded, and the time line has also been moved up.
Matt is still staunchly in the "no loan" camp, which is fine. I won't push him on that issue, because on decisions that big, we both have to be in agreement. But at some point over those few days when we were discussing options, Matt had casually mentioned that we could go ahead and get the floor leveled in the breakfast room, and then probably have the room re-drywalled. I didn't push him for time line or money amount details. I just decided to let him continue mulling over options in his head, and just be thankful for whatever he agreed to.
Well, this weekend, Matt came through with details, timeline, and money amounts he's willing to put into it right now.
The details: Matt wants the breakfast room floor leveled, the entire room redrywalled, windows removed from the back of the room (where the pantry will be), and new windows at the front of the breakfast room. He also wants my office, his game room, and our bedroom redrywalled. And then as soon as the drywall is in all of those rooms, he wants new insulation in the attic.
The timeline: He wants it done ASAP, as in, he wants it started this week. I don't think there's any possible way I can be ready for work to start this week, but I'll do my best. First, I need to get quotes for the work. That could take a while. And then who knows when they'll actually be able to fit us into their schedule? They may not be able to start ASAP. But while we're waiting, I'll need to get all of those rooms cleared out so that they can get in there and work. All of those rooms have furniture that will need to be cleared out, but the breakfast room is the worst. It not only has furniture, but because we don't use it, I've also been using it to store paint, tools, electrical supplies, etc. I mean, it's packed full of all of that stuff. The first floor leveling company is scheduled to come Wednesday to give us an estimate, so I'll be working between now and then to get it cleared out. I'm thinking about renting a PODS container while the work is being done.
The money: Matt said for immediate use, he would give me an extra $7,000 in addition to my regular monthly "allowance" of $1,200 for house projects. And I'm willing to put as much of my monthly "allowance" towards this as needed, including any that I have left over from this month, since the month is just about over. So that gives me right at $9,000 that I have immediately available, with an additional $4,800 that I'll have between September and December, if needed. I think I can get quite a bit done from Matt's list with the $9,000 that I have available right now.
So why the change of mind and sense of urgency on Matt's part?
Well, there are a couple of reasons. First, he said, "You know when you talked about just getting things done and having a house that we can just enjoy? I really like that idea. I love the idea of being able to be in the breakfast room with you while you're cooking meals." 🙂
And then there's this…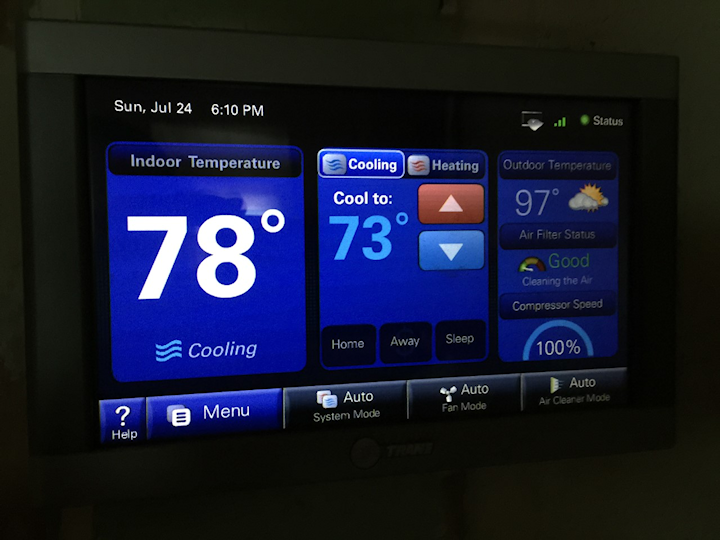 Yes, that's a picture of our thermostat that I took yesterday at 6:10pm. We're in Texas, and we're getting into the hottest part of the year. Yesterday, the outdoor temp got up to 99 degrees with a heat index of 106 degrees. And we're not even into the hottest month yet. In August, we consistently have 100+ degree weather (actual temp) with even higher heat index temps. And with our air conditioner set to 73 degrees, and the compressor running at 100 percent, the best our air conditioner can do on days like that is keep the indoor temp down to 78 degrees.
Why? Because we have no insulation in our attic.
Well, that's not completely true. We have about two inches of decades-old insulation over the breakfast room, my office, Matt's game room, and our bedroom. We have ZERO insulation over the kitchen, dining room, entryway, hallway, and hallway bathroom. And as I'm sure you know, the majority of your heating and cooling escapes through the roof. That's why attic insulation is so very important. I believe our local building codes require a minimum of 13 inches of insulation, so we're a tad bit lacking. 😀
The end goal here, in addition to having a usable breakfast room where Matt can hang out while I cook meals, is to also have a well-insulated attic so that our cool air (and heating in the winter) will stop being sucked right out through the roof. And I've told Matt over and over that it's pointless to spend all of that time and energy blowing insulation into the attic if I'm just going to turn right around and tear down drywall from the ceiling and lose all of that new insulation. I've been pretty adamant that all of the drywall needs to be finished (at least on the ceilings) before I'll spend time and energy on insulation.
So that's where we are on this house journey right now. I do still hope to be working on the hallway while other people are working in other rooms, but I have a feeling that I just need to be completely flexible right now, and work where I'm needed the most. And it's very rare that Matt has so much input on the process, so when he actually does have input, I like to try to take it very seriously.
Anyway, we'll see where this all takes us by the end of the year. It should be interesting! But for now, I have drywall and floor leveling people to contact, estimates to get, windows to order, a storage container to rent, and rooms to clear out. I'm excited!
Addicted 2 Decorating is where I share my DIY and decorating journey as I remodel and decorate the 1948 fixer upper that my husband, Matt, and I bought in 2013. Matt has M.S. and is unable to do physical work, so I do the majority of the work on the house by myself. You can learn more about me here.
I hope you'll join me on my DIY and decorating journey! If you want to follow my projects and progress, you can subscribe below and have each new post delivered to your email inbox. That way you'll never miss a thing!