Last Updated on October 11, 2012 by Kristi Linauer
Well, good morning, lovely people!  Welcome to another Make It Happen Monday!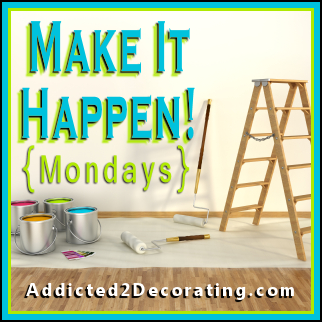 Today, for the first time in a long time, I have such a sense of accomplishment.  I don't know what has gotten into me over the last few days, but I have such a drive…such a determination…to get things done around the condo.  And things are getting FINISHED!!
I've noticed that working on this condo for me is a lot like the battle to lose weight.  Getting started was the absolute hardest thing in the world, and everywhere I looked, I saw huge obstacles standing before me.  But if I just dive in, and start doing a little bit at a time, I start seeing results.  And then when I see results, it makes me want to press on to see even more results!
Okay, enough philosophizing and psychologizing (yep, that's actually a word).  🙂  Here's my useless-bookcase-turned-amazingly-practical-and-pretty pantry.
Doesn't it look like it was always supposed to be a pantry?!  I left the center section open (and tiled it) specifically to house our Berkey water filter.  Now I just need to figure out what to put next to it.
And in case you're new around here, I'll show you how it started out.  Here's the before and after.  And again, please remember that I took the before picture minutes after we were handed the keys to our condo.  The electricity wasn't even turned on at the time, and all the junk is stuff that the previous occupants left behind.  I was a bit anxious to take my before pictures.  Now I wish I had taken a few minutes to clear away the junk, just because it's distracting.  Oh well…hindsight is 20/20, isn't it?
And do you notice another project I tackled in the kitchen?
Yes, I refinished my butcherblock countertops.  For the fourth time.  I know you think I've gone insane, and perhaps I have, but doing this particular finish on my countertops was the best decision ever.  I'll share more about that later this week.  I'm also in the process of giving my kitchen light a little makeover, so I'll share that as well.
I love this feeling of accomplishment!  It could be addictive.  🙂
So what have you gotten accomplished around your home in the last week?  Have you tackled any lingering unfinished projects?  Did you get any of those projects finished?  I'd love to hear about it!  And if you have a link to a blog post about your project, please feel free to share it in the comments below.
Addicted 2 Decorating is where I share my DIY and decorating journey as I remodel and decorate the 1948 fixer upper that my husband, Matt, and I bought in 2013. Matt has M.S. and is unable to do physical work, so I do the majority of the work on the house by myself. You can learn more about me here.
I hope you'll join me on my DIY and decorating journey! If you want to follow my projects and progress, you can subscribe below and have each new post delivered to your email inbox. That way you'll never miss a thing!