Last Updated on December 7, 2015 by Kristi Linauer
Do y'all know how much money I waste on paint brushes?  I don't even want to think about it.  I always buy Purdy paint brushes for my projects (specifically my favorite Purdy XL Cub), which run about $12 each.  I buy those because they're the best, and they make my painted finishes look so nice, but I have such a bad habit of wrapping up those paint-filled brushes in plastic, setting them aside for possible use later, and then completely forgetting about them. (I'm the worst about doing this with brushes that I use with oil-based products.)  I find them a week or two later, and they're completely filled with paint and dried up as hard as a rock.  At that point, it never dawned on me that I could get that solid-as-a-rock paint or primer out of the brush, so those brushes get thrown away.  Sadly.
Well, the other day I was working on my piano, and I needed a brush to apply the oil-based primer on the polyurethaned walnut parts.  I searched and found a brush that had previously been used for oil-based primer…still in the plastic bag, still filled with oil-based primer, and dried up hard as a rock.
I got online to see if it was possible to clean the brush, and I came across lots of info about cleaning them with vinegar.  The problem?  It's a long, time-consuming process (soaking in vinegar for an hour, boiling vinegar, soaking for longer, scraping the paint out, repeat as necessary), and I needed wanted a brush NOW.  I wasn't willing to wait.
And that's when I glanced outside and saw the container of Klean Strip Premium Stripper that I had used on the piano.  I wasn't willing to wait around an hour or two to see if vinegar would work.  So I thought the stripper was worth a try since I had nothing to lose.  I figured it might eat right through the bristles, but since I was about to throw the brush away and head to Home Depot for a new one anyway, it was worth a try.  Nothing to lose here.
I wish I had taken a "before" picture, but I honestly didn't even think about it.  I didn't think this would work.  I expected the stripper to eat right through the bristles on the brush.  But just know that when I store brushes in plastic bags for use later, I always dip them in the paint or primer to fill them up as much as possible, and then put them into the bag.  That works great to keep them wet and workable for longer.  But of course, if I forget about them and they dry up completely, they seem even more impossible to clean since there's soooo much paint/primer in them.  So let me show you how I remove dried paint from a paint brush in about five minutes.
I poured some stripper into a glass bowl, and soaked the brush in the stripper for about one minute on each side.  The primer started becoming gooey after about 15 seconds, and I scraped off the majority of it with a small metal putty knife.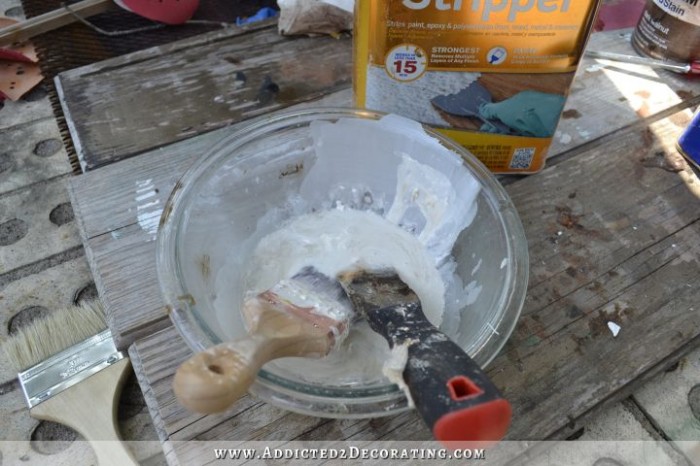 With most of the primer scraped away, and the rest of it completely softened, I followed up with my normal routine for cleaning oil-based products — pour mineral spirits onto the brush, work in thoroughly, squeeze as much out into a paper towel as possible, put a generous amount of grease-fighting dishwashing liquid onto the brush, work into the bristles thoroughly, and rinse with water.  Repeat if necessary.
I ended up with this…
Those bristles were just as soft as they would have been had I cleaned the brush immediately after using.  I can't believe how quickly and easily this worked!  It literally went from solid as a rock (that's no exaggeration) to soft and clean in under five minutes.  Why the heck didn't I think of it before?  I mean, paint stripper is specifically for removing layers and layers of old, dried paint, right?
And paint stripper works on both water-based and oil-based paints, primers, polyurethanes, etc.
Just three caveats:  First, I doubt that this will work on all paint brushes.  That stripper is very powerful stuff (wear your chemical resistant gloves!!!), and it very well might eat right through some kinds of bristles.  I have no idea.  I do know it will worked beautifully on my Purdy paint brush.
Second, I would imagine if you leave the brush in the stripper too long, it will do irreparable damage to the bristles.  I don't know that for sure, but I wouldn't take any chances. Literally about one or two minutes on each side is all it takes.  And I just stood there and flipped mine back and forth — a few seconds on side one, a few seconds on side two, and back to side one, etc.  And I don't know how many times you could do this to one brush before it starts harming the bristles.  But if you're like me, and you're not willing to wait around for an hour or two for vinegar to work, then what have you got to lose?  I always seem to have stripper and mineral spirits on hand.  And I was already about to throw this brush away and head out the door to Home Depot for a new one anyway.
Third, I did end up with a few "curled" bristles.  I don't know if that's because I was careless in putting the brush into the plastic bag, and then they dried that way.  Or maybe it's because I was too rough with the scraping when the brush was in the stripper, and the force on some of the bristles curled them kind of like curling small ribbon by running it between your finger and the edge of scissors.  So I would recommend scraping very gently.  The stripper works so well that there's really no need to scrap with force anyway.  I just used some scissors and cut away the "curled" bristles, and the rest of the bristles looked great.
I could have saved myself hundreds of dollars over the last couple of years had I figured out this trick earlier!
Just remember, if the stripper eats through your paint brush bristles, please don't blame me!  🙂  You've been adequately warned.  😉
UPDATE:  Someone just left this comment on my A2D Facebook page, "Genius! Just tried it with a brush and goof off stripper. It's as good as new!!!"
Addicted 2 Decorating is where I share my DIY and decorating journey as I remodel and decorate the 1948 fixer upper that my husband, Matt, and I bought in 2013. Matt has M.S. and is unable to do physical work, so I do the majority of the work on the house by myself. You can learn more about me here.
I hope you'll join me on my DIY and decorating journey! If you want to follow my projects and progress, you can subscribe below and have each new post delivered to your email inbox. That way you'll never miss a thing!