When I was in the planning stages of this fireplace project, I had decided that I would do a fancy faux brick interior on the fire box using joint compound.
Then I started building the fireplace, and it took way more time and effort than I had planned, so I decided that I would probably forgo the faux brick fire box and just paint the whole thing a solid black.
Then I read this comment yesterday, and I decided that I would probably regret it if I cut corners on this project and didn't see my complete vision for this fireplace come to full fruition. So yesterday I tackled the faux bricks using joint compound. (Thanks for the shove, Alta! 😀 )
(By the way, if you've missed any of this project, you can see part 1 here, and part 2 here.)
Before I could start on the bricks, I needed to do a little detail work on the actual fire box.  If you'll remember, this is how it ended up when I finished building the basic structure on Monday.
Now what you couldn't see in that picture is how rough the cut edges of the frame were that attached to the fire box.  In some areas, the frame overlapped the edges of the fire box by up to 3/8-inch.
So I used my orbital sander with 100-grit sanding discs to sand down the edges and make them flush with the inside of the fire box.
Once that was done on all four sides, I began marking off my brick pattern.  I used a piece of 1″ x 3″ lumber cut to about 5.5″ long as a template for a brick, and just used a pencil to trace around it.  I started on the back side and did a herringbone pattern.
And I did a standard brick pattern on the sides.  I didn't do the top or the bottom because, frankly, I was tired of taping off the design, and I didn't think they'd show in the end anyway.
Then I used 1/4-inch masking tape to tape off the design.  This tape is generally not available at home improvement stores, but you should be able to find it at auto parts stores.
I just went right over my pencil marks with the tape.
When everything was taped off, I used a 3-inch metal scraper and a small 3-pound container of drywall compound…
…and covered the back and sides with a thin layer.  Then I used a small sea sponge (found at Michael's) to add some texture to the drywall compound.
I used the sea sponge over the entire surface, and then removed the tape before the drywall compound started to dry.
Update:  Many people have asked me how I was able to find and remove the tape once it was covered with drywall compound.  If you'll look closely, you can see a few tape ends peeking out from the top, and I also had one peeking out in the hole that I cut for the electrical cord.
Since all of the tape pieces were connected and taped to each other, once I started pulling one piece, it would reveal the ones taped to it, and so forth.  I did have a couple that got lost, but I just used the point of a razor blade to poke around and find it, which wasn't difficult since I had a pretty good idea of where it was supposed to be.  If any drywall compound got messed up from my poking around with the razor blade, I just smoothed it over with my finger.  But again, that only happened with about two pieces, since the rest were all pretty well stuck together in a web of sorts.
So to clarify, I taped the whole thing (back and both sides).  The I mudded the back, and removed the tape from the back.  The I mudded the left side, and immediately removed the tape from the left side.  And finally I mudded the right side, and then immediately removed the tape.  Of course, on the sides, removing the tape was a cinch since I left the pieces quite long on the front ends.
Then I placed it in front of a space heater so that it would dry faster.  It took about two hours for the whole thing to dry completely.
When it was dry, it was very rough and had lots of pointy peaks from the sea sponge texture that I added.
So I used 120-grit sandpaper to sand down the peaks and give it a more natural brick texture.
(There are still a couple of "bricks" on the bottom right corner of the side wall that haven't been sanded in the picture above, and none of the back wall had been sanded at that point.  So you can see the big difference that the sanding makes.)
And that's where I left it when I finished sanding at 10:30 last night.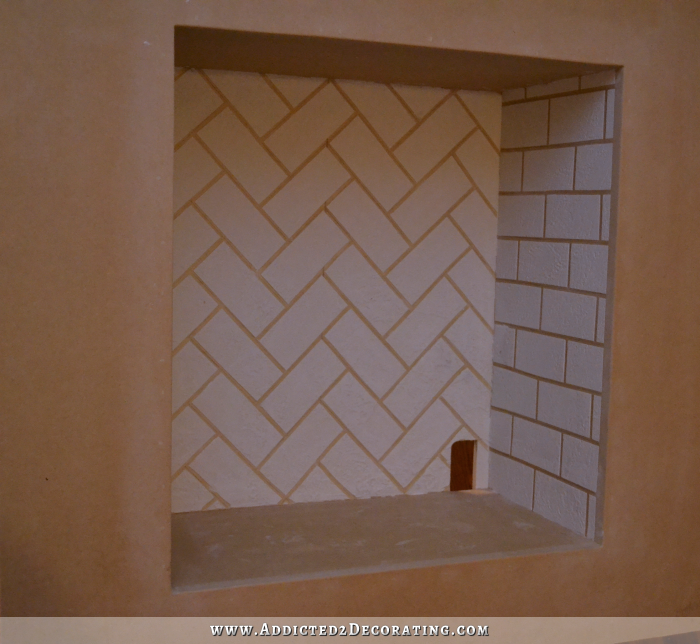 I'm going to paint the whole interior black, and then use some various shades of black to give the bricks more of a textured look.
I really love this technique, and it can be used on almost any vertical surface to create the look of brick or tile.  (I say "almost" because, of course, you wouldn't want to use this in a shower or bathtub area.)  Need a new kitchen backsplash but don't have the cash for new tile?  You can buy a big (and very heavy!!) 5-gallon container of drywall mud for about $15, and a roll of 1/4-inch tape for about $7, and create your own "tile" backsplash for a tiny fraction of the cost of real tile.  You can paint it any color you want, or use several similar, neutral colors sponged on to create a natural brick or tumbled stone look.
I'll get this fire box finished today, and hopefully get pretty darn close to finished with the fireplace.  It's supposed to be sunny and in the mid-60s today here in central Texas, so I'll have no excuse if I don't have a near-finished fireplace to show y'all tomorrow.  😀
Addicted 2 Decorating is where I share my DIY and decorating journey as I remodel and decorate the 1948 fixer upper that my husband, Matt, and I bought in 2013. Matt has M.S. and is unable to do physical work, so I do the majority of the work on the house by myself. You can learn more about me here.
I hope you'll join me on my DIY and decorating journey! If you want to follow my projects and progress, you can subscribe below and have each new post delivered to your email inbox. That way you'll never miss a thing!