Last Updated on May 23, 2017 by Kristi Linauer
Yesterday I finished both of my DIY dining room benches! I painted the bases the same color that I used on the dining chairs — On The Rocks from Sherwin Williams. It's a barely-there gray. The fabric that I used is a Crypton fabric called Savannah in the color Wisteria (found here). I bought it during a 50% off sale.
If you missed Part 1 of this tutorial where I showed how to build the base, you can click here to find that…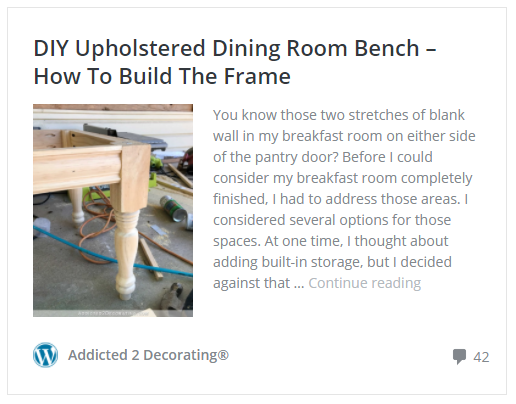 After building the frame, I then primed it with oil-based primer (my favorite Zinsser Cover Stain), sanded it with 150-grit sandpaper, painted it with two coats of On The Rocks (I sprayed it with my Critter paint sprayer, which you can get here), and then sprayed it with my new favorite clear topcoat, General Finishes High Performance Top Coat in a satin finish, which I purchased here. I sprayed the top coat as well.
With the base completely finished, I was ready to start on the upholstered top.
I began by adhering a piece of 2-inch foam to the 3/4-inch plywood using spray adhesive. The best and only spray adhesive I use is Loctite 300 (you can get it here, but I get mine at JoAnn Fabric). I prefer it because it's a very strong hold, and it also sprays the adhesive as a web rather than a mist. The mist adhesive sprays are so messy and leave everything around it sticky. The web adhesive sprays are so controllable that I often spray them inside. Just be very sure the area you're working in is well ventilated!! Open some windows for air flow because the stuff is stinky.
Once the foam was adhered to the top, I trimmed it to size using an electric knife (a.k.a., the fastest and easiest way to cut foam).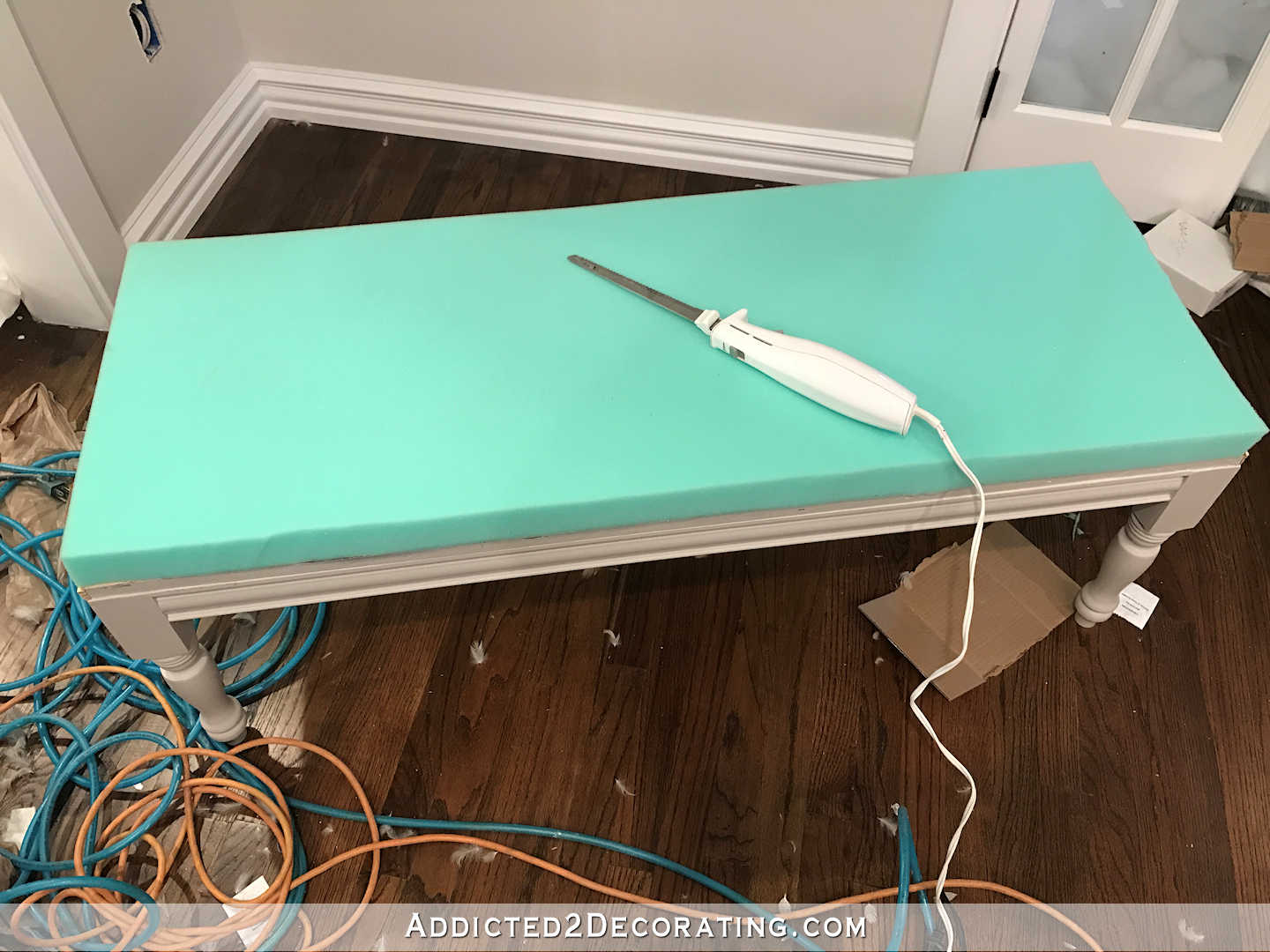 Next I wrapped the top in high loft polyester batting, using a hot glue gun to adhere it around the edges of the plywood and then trimming it just along the bottom of the edge of the plywood where the plywood meets the base frame of the bench.
And then I covered the batting with the fabric, pulling it taut and stapling it about 1/8 inch from the bottom of the edge of the plywood. For projects like this, I use my narrow crown staple gun (you can find it here, but I purchased mine at Home Depot) with 1/2-inch staples.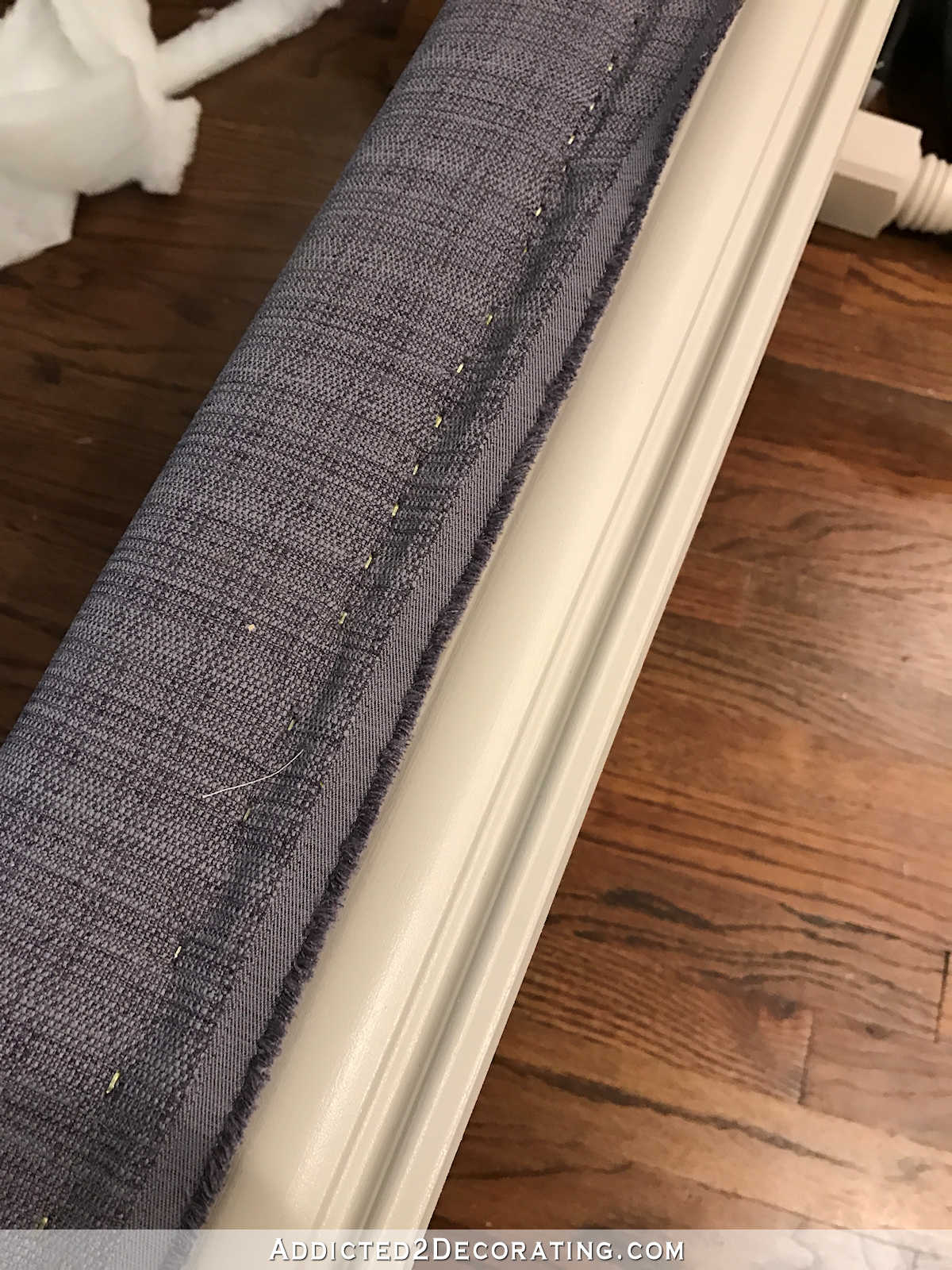 And then using a new and very sharp razor blade in my utility knife, I trimmed the fabric right at the bottom of the edge of the plywood. Fabric dulls blades very quickly, so I went through about three brand new blades (using both sides on each) on my two benches.
Next I used my hot glue gun to adhere trim to cover the staples and the raw edge of the fabric. This trim also covered the very top edge of the wood frame about 1/8 inch. I used twill tape, but any comparably sized trim will work for this.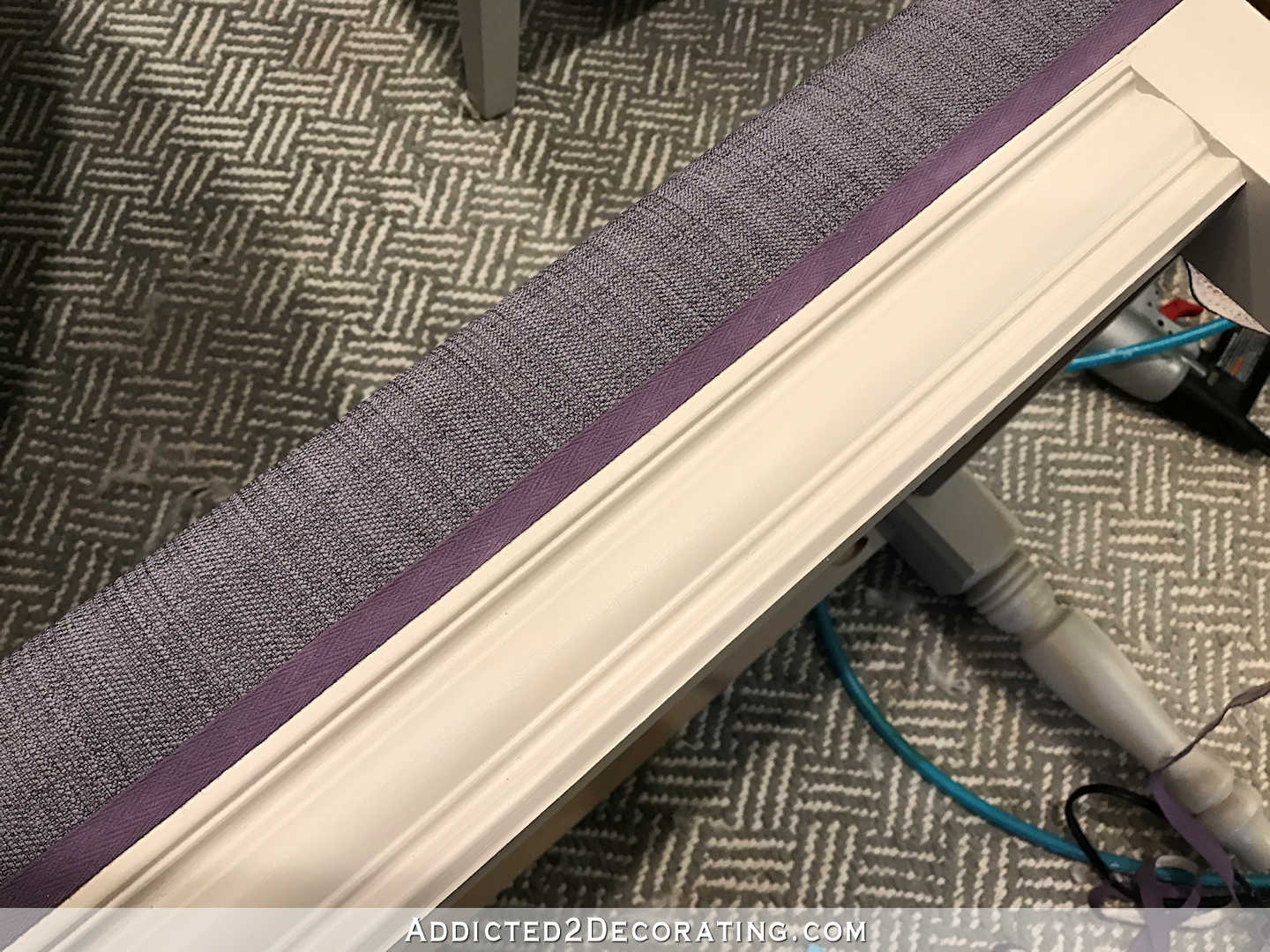 And finally, I added some naiheads. I don't ever use the nailhead trim strips. I much prefer the individual nailheads, and I like to place them about one inch apart. So I used a pen and tape measure to mark the placement for the nailheads, and then tapped them in one by one. I know this step sounds incredibly time consuming, but I promise that it's not. I timed myself (because I knew people would be curious, and heck, I was too! 😀 ), and the entire nailhead process on one bench, including the measuring and marking, took 32 minutes from start to finish.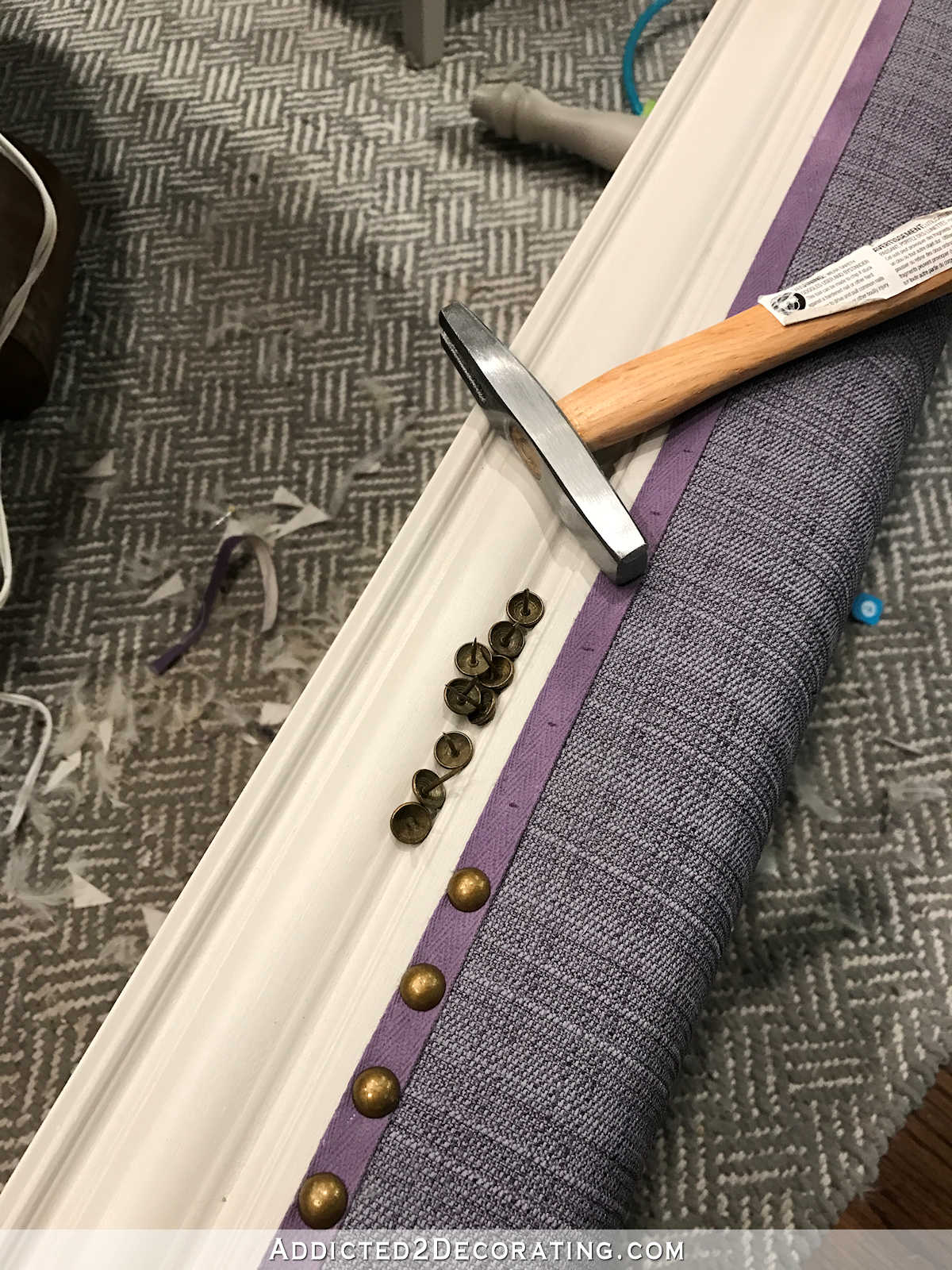 And that's it! That's an entire DIY upholstered dining room bench from start to finish.
Of course, there are other ways you can customize a bench like this. You can certainly leave the nailhead trim off and use a more decorative trim (e.g., something with an embroidered design) in place of twill tape. You can also do some diamond tufting on the top (following my instructions here, or an alternate and easier version of tufting which you can find here).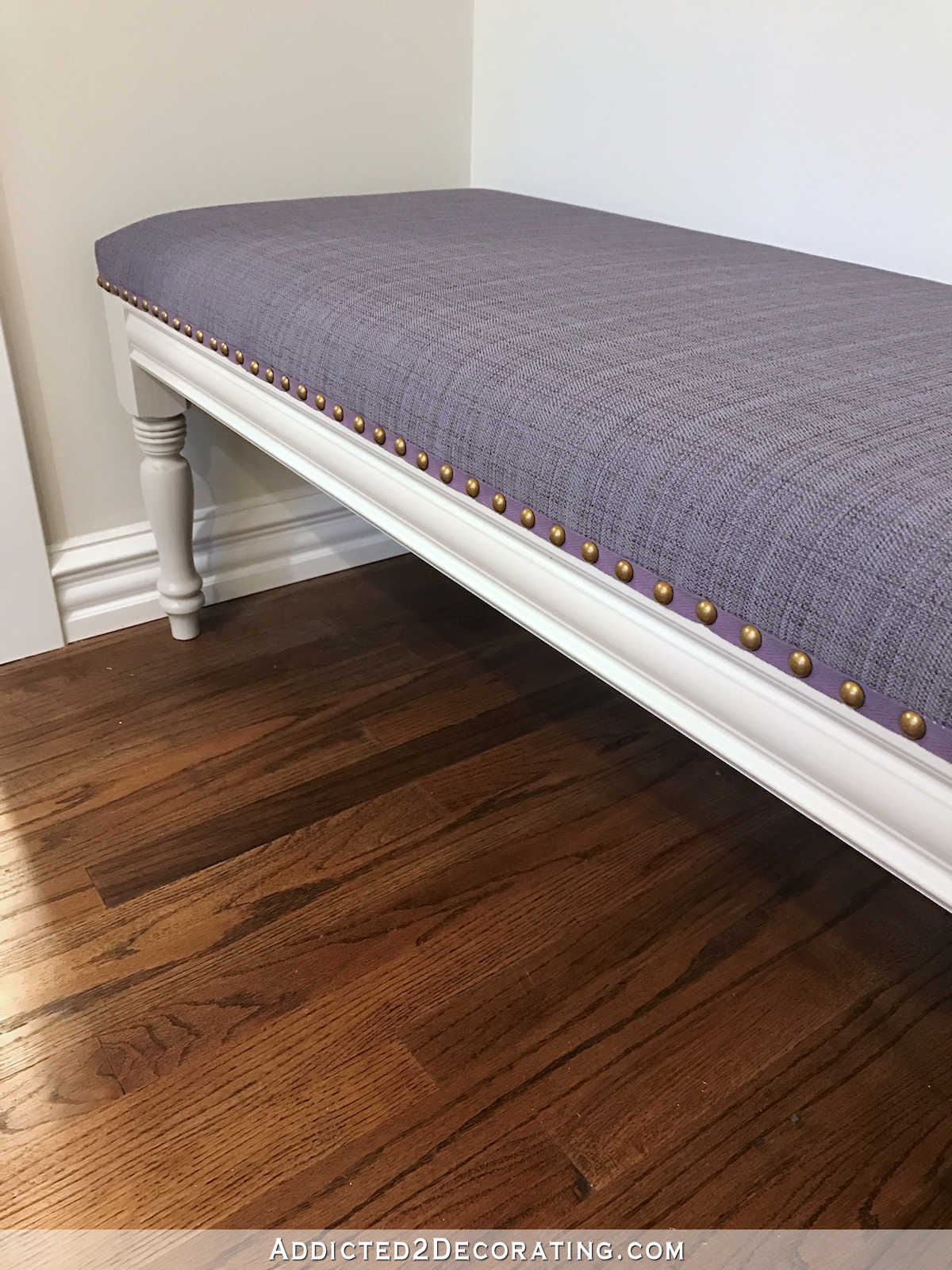 But as much as I love tufting, I wanted to keep my benches simple. A simple, smooth top just seemed more dining room friendly to me.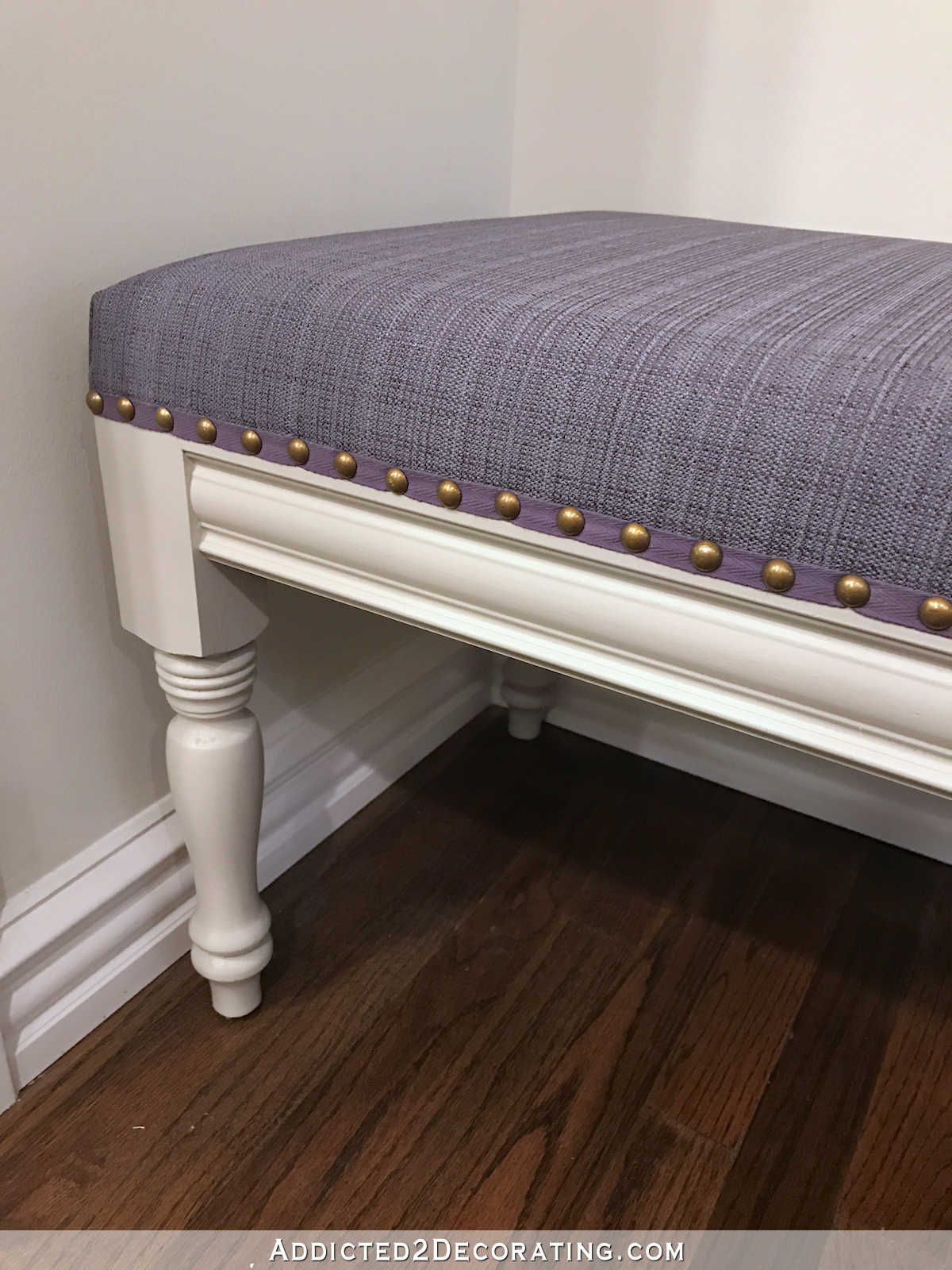 There are also many different legs available online. Since I failed to plan ahead and then didn't want to wait for an online order to arrive, my leg selection was very narrow. I basically had two different styles to choose from locally.
Had I planned ahead better, I probably would have chosen something a little different (less country and more classic). But these are fine. I did try to dress them up a bit by using decorative trim for the rails rather than using plain 1 x 3 lumber.
But overall, I'm very happy with how my benches turned out. And I'm even happier that this finished project means that my breakfast room is that much closer to being finished!
I just have an art project to do, a few finishing touches to attend to, some throw pillows to purchase for the new benches, and this room will be completely done.
Addicted 2 Decorating is where I share my DIY and decorating journey as I remodel and decorate the 1948 fixer upper that my husband, Matt, and I bought in 2013. Matt has M.S. and is unable to do physical work, so I do the majority of the work on the house by myself. You can learn more about me here.
I hope you'll join me on my DIY and decorating journey! If you want to follow my projects and progress, you can subscribe below and have each new post delivered to your email inbox. That way you'll never miss a thing!