Last Updated on July 12, 2013 by Kristi Linauer
Happy Monday, all!  Remember last week when I said I had a project in mind for the shower in my tiny little bathroom?  Well, it's (almost) finished!  I made a removable cedar shower floor mat.
I was inspired by some of these (obviously much higher end and super expensive) wood shower floors.
If you've been around here long at all, you know I love the warmth that wood adds to a room.  All of the countertops in the condo (kitchen, living room bookcase wall, bathrooms) are wood.
But also, this project was kind of a test run for the house.  You see, I'm trying to come up with a solution for a shower that is easy to use for Matt when we get around to remodeling the master bathroom in the house.
For those of you who don't know, Matt (my husband) has M.S. and is in a wheelchair.  So when we get around to remodeling the bathroom at the house, I'd like to make the shower one where he can wheel himself in and transfer to a shower bench.  Obviously, that means that there can't be any kind of step, or lip, or curb.  It all has to be one smooth floor.  I know it's possible just to have it all be tile, but I thought it might also be nice to have the shower pan sunken in a few inches (just so that it catches the water better), and then have a wood floor on top of that to make it level.
So this was a practice run to see if I could build one of these wood shower floors.  And I did.  And it was fairly easy!
I love the way it looks.  Here's the plain shower with just the tile…
And here it is with the cedar shower mat…
It's built like a little deck on four support slats, so the part that you stand on is actually raised above the tile about 2 inches.  And because the tile floor isn't flat (it slopes towards the drain), the cedar support beams are actually only resting on the floor around the edges, so water won't get trapped in the middle.
And of course, it can be easily removed for cleaning.
If I do ever do this project for the house, I'll probably use a wood like teak or IPE, but since cedar is also known for it's resistance to weather, rot, mold, etc., and it's considerably cheaper, it seemed like the perfect material for my practice run.  Plus, if it's good enough for decks, fences, outdoor showers, patio furniture, saunas, raised and elevated gardens, etc., then certainly it's good enough for my little shower mat.  🙂
Here's how I made it:
The whole thing is made out of cedar 1″ x 2″ lumber.  And just a warning, it took me forever to find enough boards that were straight enough for this project, but finding really straight boards is pretty important.
I used my miter saw to cut 20 pieces of wood the length of my shower (34 inches), and four pieces the width of my shower (35.25 inches).
Next I took one of the four support pieces (the 35.25-inch pieces) and marked the spacing for the slats.  This was a bit challenging since the spaces needed to be something like .27 inch.  It took me a couple of tries to get them right.
Once I got the spacing right, I marked the edge also.
Next I drilled pilot holes for the screws.  I wanted to use the support boards standing up on the edge like this to give them more strength.  I also wanted the screws to go up through the bottom and into the bottom of the slats.  (If that doesn't make sense yet, hopefully it will in just a bit.)
I followed with a much larger drill bit that was the size of the head on the screws I would be using, and drilled about 1/4-inch into the wood.  This would allow the screws to be countersunk.
You can see here the difference between the original pilot holes and the holes for countersinking the screws.  Again, the larger portion is only about 1/4-inch deep.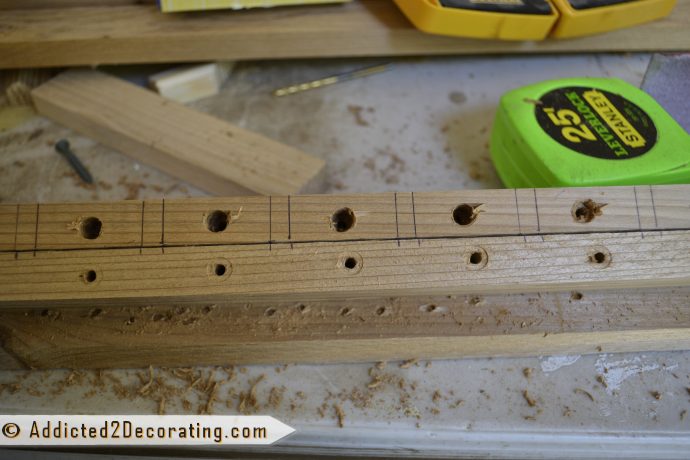 After all of the holes were drilled, I sanded, and sanded, and sanded, and sanded some more.
I started off sanding each board with my rotary sander just to get all of the flat sides really smooth.  Then I followed up by sanding all of the edges and ends by hand.  So none of the boards were left with a sharp corners on the edges, but instead they were slightly rounded.
Then I gave all of the boards (support boards included) a coat of pre-stain conditioner…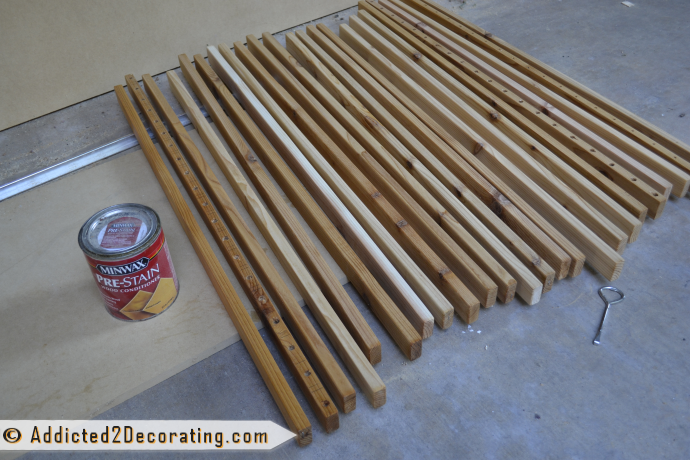 Followed by a coat of Minwax stain in Dark Walnut…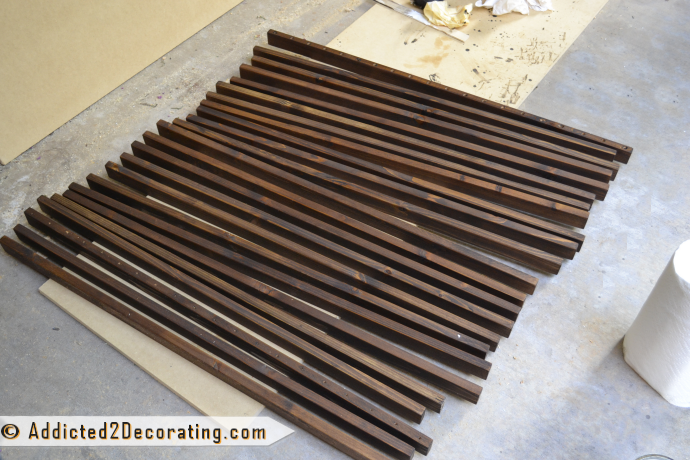 Throughout the sanding, conditioning, and staining process, I always made sure that my spacing guidelines were visible on at least one of the support boards.  This required that I transfer the marks from one board to another throughout the process (i.e., before sanding the board with the marks, I transferred the marks to a board that had already been sanded).
With all of the boards stained and dry, it was time for assembly.  Because the screws were going up through the bottom and into the slats, the mat had to be assembled upside down.
I started at one end, using my guidelines to determine the spacing of the boards.  I assembled the mat with 1 5/8-inch deck screws.
I continued on until all of the boards were attached to the first support board.
Then I used my framing square to be sure that the two outside boards were square, and I attached the support board to the other side, starting with the two outside boards and working in toward the middle.
I forgot to take a picture of the final two support boards in place, but simply spaced them evenly as demonstrated by the white lines here…
During the assembly, I tried to keep everything as square as possible.
So that's where I left the project last night.  The stain still wasn't 100% dry, so I'm going to give a day or so more, and then I have a few finishing steps that I'm going to do.
First, I'm going to use clear silicone caulk (the kind meant for showers and wet areas), and I'm going to caulk all of the screw holes from the bottom.  Even though I know cedar is weather resistant, and I used deck screws, I still would like to take that extra step to protect those screw holes from having water get caught in them.
I'm also going to give the mat extra protection with a coat or two (or three) of teak oil.  I considered polyurethane, but I think I'd like to try an oiled finish first and see how that will hold up.  If it doesn't give quite the protection I'm after, then teak oil can be polyurethaned after 72 hours.  Also, I read that something like Thompson's Water Seal (the one that's made for decks) can be used as well.  One woman said that she gives hers a coat of that about once a year, and it's holding up great.
And last, I bought some little rubber slip-resistant feet that I want to put on the support boards.  This will lift it up a bit more, provide extra room for drainage, and keep the support boards from sitting in water.
So the shower is pretty much finished.  Tomorrow I'll show you the mirror (or rather, the frame for the mirror) that I made for this bathroom.  It's actually finished, and I really wanted to show you today, but I couldn't find anyone to cut my mirror over the holiday weekend.  So hopefully I can take it in today and get it cut, and get my mirror hung on the wall so I can show you tomorrow.
This room is just about finished!!