Last Updated on August 17, 2015 by Kristi Linauer
It's Friday, y'all!  Woohoo!  I've had such a great, productive week this week — finishing my buffet makeover, and also finishing my niece's built-ins (bookcases, daybed, and trundle bed) for her bedroom makeover.  I love that feeling of accomplishment at the end of a week.  Don't you?
And speaking of buffet makeover, I had quite a few of you request details about the DIY beaded drawer pulls and ring pulls that I made for the buffet.
These are the easiest things ever.  Seriously.
I started with unfinished wood beads, some little silver spacer things, and some heavy gauge wire.   I found the silver spacers and wire in the jewelry-making section of Michael's.  The wood beads were with all of the unfinished wood crafting supplies.  I cut a piece of wire about eight inches long, and then strung the beads and spacers onto the wire.  To get my desired look, I used three sizes of wood beads, and I stained them using Rust-Oleum Dark Walnut stain.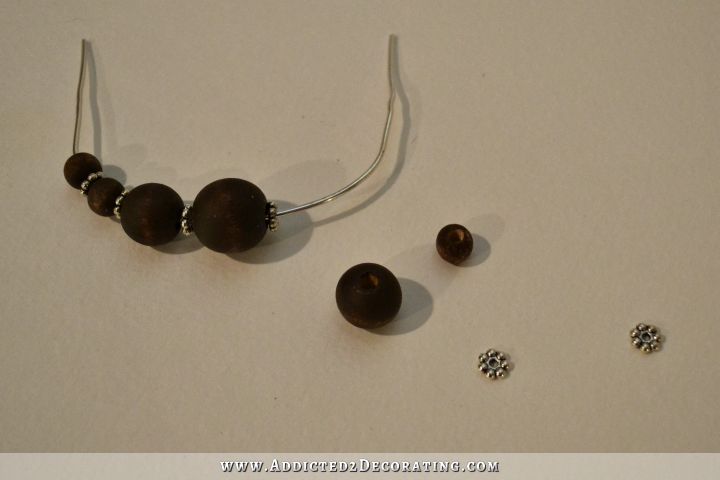 Before I attached the "handles" to the drawers, I hot glued these flat silver things over the screw holes on the drawers.
I don't know what they're called, but I found those in the jewelry-making section as well.  The reason I glued those on is because the holes in my drawers were rather large, and if I just strung those onto the wire and put the wire through the holes, the wire would fall to the bottom of the hole in the drawer, leaving the top of the hole exposed over the silver thing.  So I had to glue those on, perfectly centered over the holes in the drawers.  Once the glue was dry, I stuck the wire through the silver things.
And then on the inside of the drawer, I bent the wire over on one side, and then pulled the other side as tight as possible and bent that side over as well.
The gauge of the wire is heavy enough that bending it alone should keep it in place.  However, as soon as I get my air compressor and staple gun back from my mom's house, I'm going to add a staple on each end of the wire to be sure it really holds in place.
For the ring pulls, I took a couple of brass ring pulls that I already had…
…and I removed the brass ring.  It took quite a bit of prying to get that thing out of there, but I finally got it out.
I used a little bit of Dark Walnut stain on the remaining metal piece so that it would blend in with the wood beads, and let it dry really well. (Yes, Rust-Oleum wood stain will work on metal, but I would only use it on metal that won't be handled much at all.)  Then I strung more beads onto wire, and fed the wire through the large hole that the brass ring came out of.  If you look closely, you can see that I pulled the wire through, and then bent it up to keep it in place.  Then I cut off the extra wire so that what remained was as short as possible.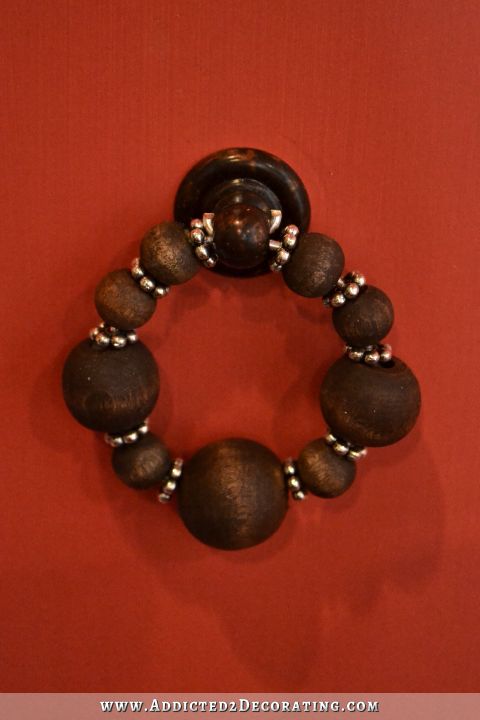 If you really study it up close, the part where the wire is bent and cut kind of looks sloppy (which may be why these rings pulls aren't really my favorite, but I do love the drawer pulls!).  But from a distance, no one would ever notice that.  I mean, when was the last time you ever went into someone's house and really studied, up close, their cabinet hardware?  🙂
So now the main question:  "Do they feel sturdy?"
Surprisingly, they really do.  Again, the wire is such a heavy gauge that it doesn't lose its shape when I pull on it.  I think the wire I used is 14-gauge.  I do know it wasn't the largest that Michael's carries.  The largest wouldn't fit through the little silver things, so I got the next size down.  It also helps that I pulled the wire as tightly as possible before bending the wire inside the drawer, so the beads are pulled right up next to each other which also helps to hold the shape and make everything feel very substantial and sturdy.  And I think the staples will help as well since they'll keep the wire bent right up against the inside of the drawer, which pulls the beads even tighter.
But with that said, let me emphasize that I would never use these pulls on something that is used daily, like kitchen cabinets or bathroom cabinets, not only because I would question the durability if they're used every day, but also beaded pulls in areas like that would be a nightmare to keep clean.  I would only use them on something that's more decorative and used only rarely, like a buffet filled with seasonal items or your fanciest serving pieces that aren't used regularly, or a writing desk or dresser in a guest bedroom.  Again, they're very sturdy for what they are.  But the fact is that beads strung on wire, regardless of how heavy the wire is, just won't ever be as durable as real solid metal pulls attached with screws.  And if they're used every single day (especially in a kitchen or bathroom…ugh…just, no), they will get dirty and grimy and will be almost impossible to keep clean.  Know what I mean?  So have fun making beaded pulls, but just be sensible about where you use them.  🙂
Addicted 2 Decorating is where I share my DIY and decorating journey as I remodel and decorate the 1948 fixer upper that my husband, Matt, and I bought in 2013. Matt has M.S. and is unable to do physical work, so I do the majority of the work on the house by myself. You can learn more about me here.
I hope you'll join me on my DIY and decorating journey! If you want to follow my projects and progress, you can subscribe below and have each new post delivered to your email inbox. That way you'll never miss a thing!