Last Updated on February 15, 2019 by Kristi Linauer
My colorful small bathroom makeover is finally finished! This is the bathroom that's in the hallway — the same one that I completely remodeled about four years ago. And at the beginning of this month, I decided that it needed a shot of color. Here's how it turned out…
Almost all of last year, this bathroom had a dull gray vanity and grayish green walls. I didn't realize just how boring and depressing the bathroom felt until I changed the wall color and added some bold color to the room. Here's how it looked before…
I can't believe I lived with that for a whole year. 😀 The "new" bathroom is so much more me.
The makeover started with the new shower curtain fabric, which actually isn't new at all. I bought that in 2016 during my failed attempt to turn my living room into a dining room. I had intended to use that fabric for the dining chairs, I believe. I can't really remember now. But it's been sitting in a box ever since I gave up on that vision and realized that my living rooms should be a living room.
I'm so glad I came across that fabric again as I was rummaging through my fabric stash, because it made the perfect jumping off point for a pretty shower curtain in this colorful bathroom makeover. And then I pulled the coral-ish color out of the shower curtain and used it on the vanity.
And I didn't even have to repaint the doors. 😀 That's a good thing, since this door color that I selected during the hallway remodel is the very reason I ended up painting the vanity from teal to gray in the first place. A hallway full of teal doors with a teal vanity was too much teal even for me. The shower curtain fabric has the door color in it.
But the door color is in the shower curtain fabric, so it worked out perfectly!
I think this new more colorful, brighter bathroom is now more fitting with the hallway and the rest of the house.
Although I don't have a whole lot of color in the hallway, I do have my coral lamp, along with some colorful artwork, all of which now tie in perfectly with the bathroom.
And I love that the bold watercolor floral shower curtain fabric can be seen from just about every angle.
All of the mosaic tile got a bit of a makeover. The original had some dark tiles in it, which you can see here…
But the darker tiles were really distracting in the new brighter, bolder bathroom. So using an artist paint brush, I primed and painted over the dark tiles so they wouldn't stand out so much. You can see the before and after of the mosaic tile makeover here…
I was amazed at how much of a difference a little bit of strategically placed paint could make! Of course, I also had to do the tile at the back of the open shelves, but it went pretty quickly.
After I got the bathroom finished, put all of my tools and supplies away, and cleaned up, I realized that I forgot to paint the dark tiles in the little mosaic tile strip to the right of the open shelves. 😀 Those stand out like a sore thumb, so I'll need to do that ASAP before I get too used to seeing them and forget to paint them. See those three dark tiles?
You might also notice that all three of the open shelves now have lighting. When I built these shelves four years ago, I cut little spaces at the front corners of each of the shelves so that tape lights could be fed through, but then I never got around to purchasing and installing them.
So it only took me four years to finish that project. 😀 I used the same LED tape lights that I used in the pantry and on my front porch to go up one side, across the top, and down the other side with the tape lighting. The tape lights are stuck to the back side of the face frames on the open shelves.
I'm so glad I took the time to give this bathroom a little makeover. It definitely suits the rest of the house much better now.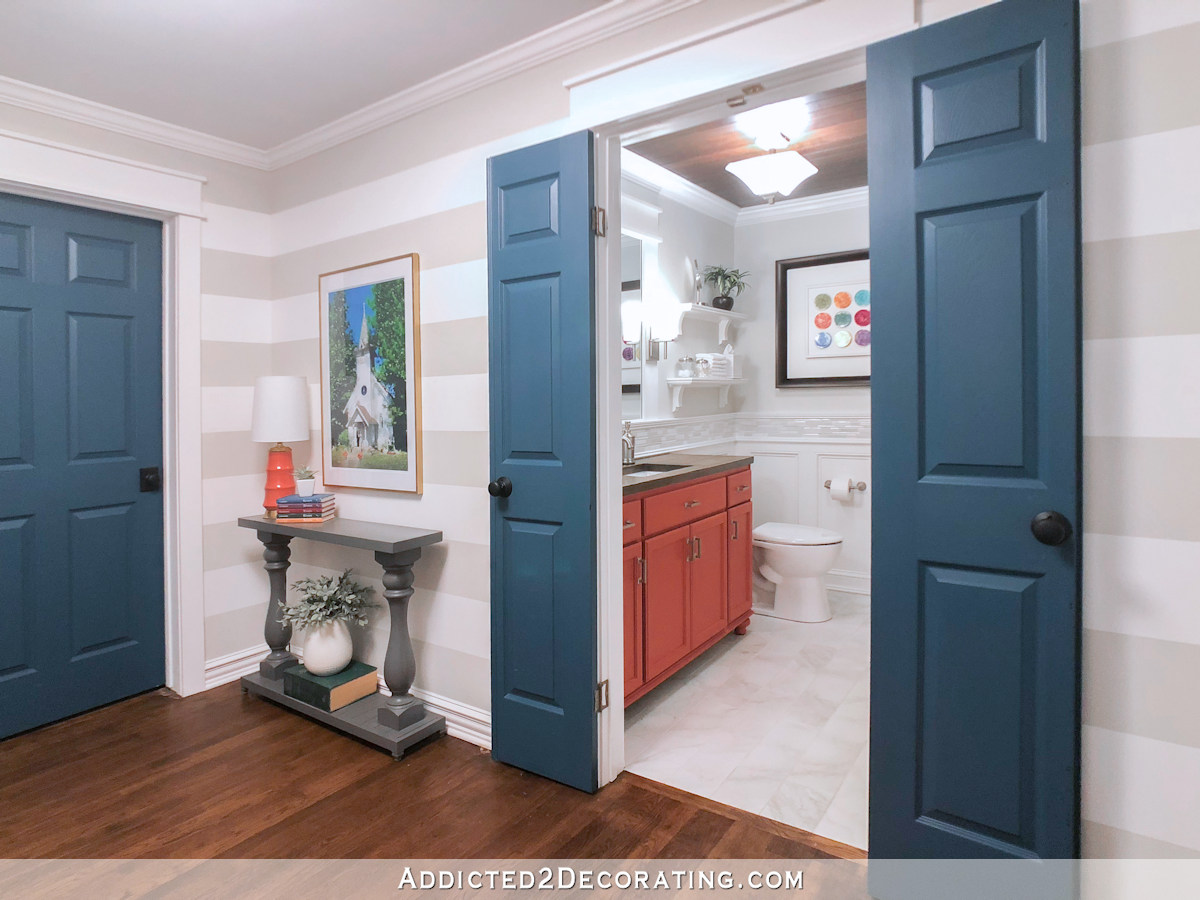 And I guess it actually wasn't such a small project. I painted all of the walls (top and wainscoting) and the vanity. I made a new shower curtain. I painted the mosaic tile. I made some new resin petri artwork.
And the most time-consuming and challenging project was refinishing the wood countertops. The first time I did these (when I originally made the countertops), I used so much stain to hide the yellow and orange undertones in the pine that the finish turned out almost opaque.
It was so dark and heavy-looking, but I figured that since I used cheap pine, and I didn't want to see those undertones, a thick stain finish was my only option.
Well, in the years since then, I've learned a bit, and I discovered the awesomeness that is wood bleach. So I stripped the countertops, bleached them, and refinished them. I love the softer, more natural look, and that you can actually tell that it's real wood.
And it's a perfect neutral brown without the yellow and orange undertones you'd usually find in pine.
So it's finished…and I'm so pleased with how it turned out. I love walking through the hallway and seeing the bold, happy colors in the bathroom.
DIY Projects for this Colorful Small Bathroom Makeover:
There were a few new DIY projects that went into this makeover. You can find those, as well as the ones that went into the original bathroom remodel, right here…
Post Archives For This Bathroom Makeover:
Want to read about this colorful bathroom makeover from start to finish? You can find all of those posts here…
Helpful sources and products:
If you missed the original bathroom remodel before and after, where I tore the bathroom down to the studs, floor joists, and ceiling joists, and rebuilt it myself, you can see that here…
Please note: This post contains affiliate links.
Addicted 2 Decorating is where I share my DIY and decorating journey as I remodel and decorate the 1948 fixer upper that my husband, Matt, and I bought in 2013. Matt has M.S. and is unable to do physical work, so I do the majority of the work on the house by myself. You can learn more about me here.
I hope you'll join me on my DIY and decorating journey! If you want to follow my projects and progress, you can subscribe below and have each new post delivered to your email inbox. That way you'll never miss a thing!