Last Updated on June 6, 2021 by Kristi Linauer
Well, y'all, it's been a terrible week. On Tuesday morning, Matt and I had to say goodbye to our beloved Boo Bear, the 16.5-year-old lab/border collie mix who has been an integral part of our family for the past 14.5 years and has shared every home that we've had since Matt and I bought our very first house in Albany, Oregon, in 2002.
That crazy, funny, brilliant dog just showed up on our doorstep one day with his brother, Bosley, and wouldn't stay away. We'd take them back to their owners, and they'd escape the back yard and show up on our front porch again. And again. And again. Until finally the owners asked if we'd be willing to take one of them because the two of them together were just too mischievous and energetic for them to handle. And he was with us ever since. Needless to say, our hearts are broken. I know Boo didn't play much of a role in this blog over the years, but he was a huge part of our lives and our hearts. Our home just won't be the same without him.
Anyway, I've needed a diversion over these last couple of days — something easy and repetitive that didn't require much thought or effort, and that could be done while I drown myself in Netflix movies. So I decided to make a piece of artwork to go over the mantel. I shared some inspiration in Monday's post, so you know that what I had in mind was something textural and colorful.
I decided to do something inspired by the all-time most popular project that I've ever done on my blog. This was the project that literally put my blog on the blogosphere map — the chrysanthemum mirror made of plastic spoons.
I just wanted to use that as inspiration, but I made some pretty significant changes for this project. I haven't had time to frame it yet (and I'm not even sure how to go about it), but here's how the actual artwork turned out…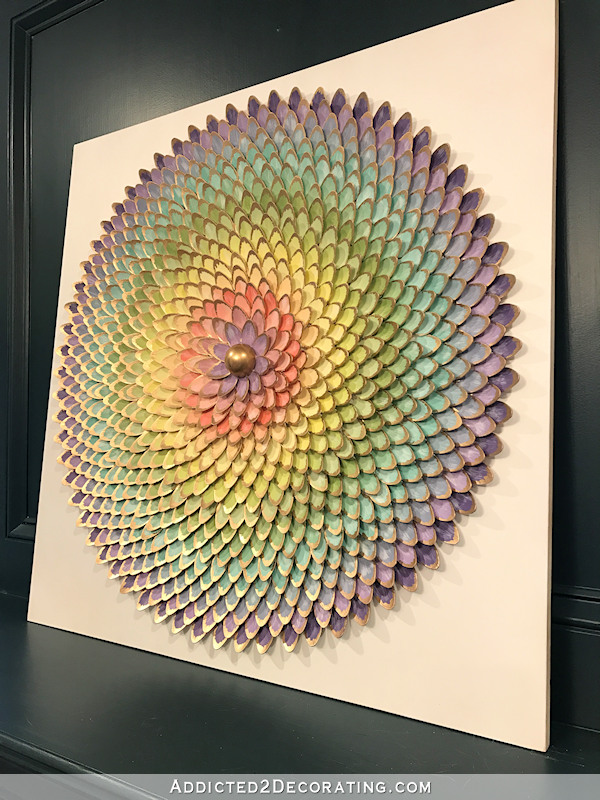 It checks all of the boxes that I wanted for the artwork above my fireplace. Not only is it textural and colorful, but it's also…hmmmm, what's the word? Orderly? Neat? Tidy? In other words, I wanted something completely different from the free-form acrylic pour artwork that hangs on the wall just opposite the fireplace. But I also didn't want anything too realistic and literal since I have the bird gallery wall in that room also.
So this fit the bill in many ways. I'm not calling this a chrysanthemum or even a flower since it's multi-colored. I'm calling it a pinwheel. And just like the chrysanthemum mirror, this pinwheel is made from spoons. But instead of using big plastic spoons, I decided to use tiny wood tasting spoons that I found here. I actually bought these for a different project that didn't turn out, so I'm guessing that I used about eight packages (800 spoons) on this project. And just like the chrysanthemum mirror, I cut the handles off of the spoons before I used them. They cut very easily with a pair of scissors. Just be sure you're not using your good fabric scissors to cut wood. 🙂
I cut a piece of plywood to 28″ square, then found the center and put a screw right in the center. Then I tied a string around the screw, looped the other end around a pencil, and drew concentric circles 1.25 inches apart.
And then I drew some guide lines out from the center just so I could kind of keep the spoons arranged in an orderly fashion rather than just haphazardly gluing them around the circles.
And then I started gluing. And gluing. And gluing. I mean, if you're needing some no-thought-needed, repetitive activity to numb your brain, this is it. I think this kept me busy through about two movies. Maybe three. I didn't keep track.
And when they were all glued on, it looked like this…
I needed something to cover the middle, so I used a plastic tablespoon measuring spoon, broke the handle off, and glued it on. It worked perfectly. I'm sure the craft store would have a wood half sphere of some sort that might work as well. And then I gave the whole thing two coats of Rust-Oleum spray primer.
Then came the fun part — adding color. I wanted a gradient rainbow look, so I started out with five different Martha Stewart craft paint colors — purple orchid, celadon, galax, lemonade, and pink grapefruit — that I picked up at Michael's.
And since I had 20 rows of spoons on my pinwheel, I placed 20 little cups on the table and then starting with the purple, I filled the first cup and then every fourth cup after that with the five original colors. (You can see those with the arrows below.) And then in the cups between, I mixed a gradient of the colors.
So here's how I did the gradient…
1st cup: Purple Orchid
2nd cup: Purple Orchid and white
3rd cup: Purple Orchid, white, a little bit of Celadon
4th cup: less Purple Orchid, white, more Celadon
5th cup: plain Celadon
6th cup: Celadon and white
7th cup: Celadon, white, a little bit of Galax
8th cup: less Celadon, white, more Galax
9th cup: plain Galax
And on, and on. You get the point. For the 19th and 20th cups, I mixed the Pink Grapefruit with the Purple Orchid to bring it all back around to the first color. Then I used a craft brush to paint each row with the gradient colors. I numbered the cups with a Sharpie before starting so that I wouldn't get them out of order while painting.
With all of the spoons painted, I liked how it looked, but it just seemed a bit flat. So then I used some watered down white paint to kind of dry brush some white over each spoon and give them some variation so that they weren't all looking so uniform and flat.
And then as a final touch, I used liquid gold gilding to give the edges and tips of the spoons some definition. You can see the difference it made in this picture, where the spoons from about 11:00 to 4:00 don't yet have the gilding…
And here it is finished. I just love that shimmer and definition that the liquid gilding gives to it.
I can't wait to get it framed. I think when something is framed and put under glass, it really elevates the look of it.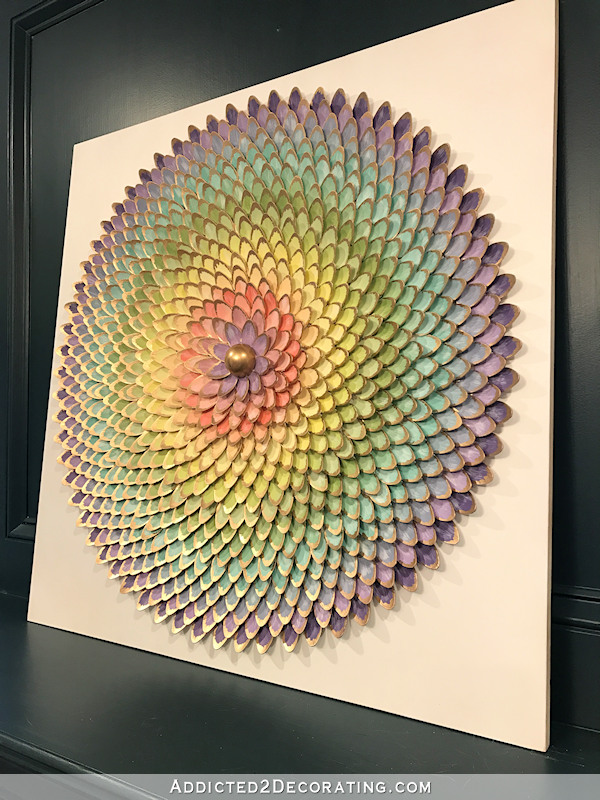 I really love how it turned out. I think it's the perfect amount of color to go over the fireplace.
Now I need to learn how to make a shadow box frame so I can get it framed and hung in the right spot.
UDPATE:
I made a shadow box frame for this artwork. To see that project, as well as this artwork framed and hung above the mantel, click the link below.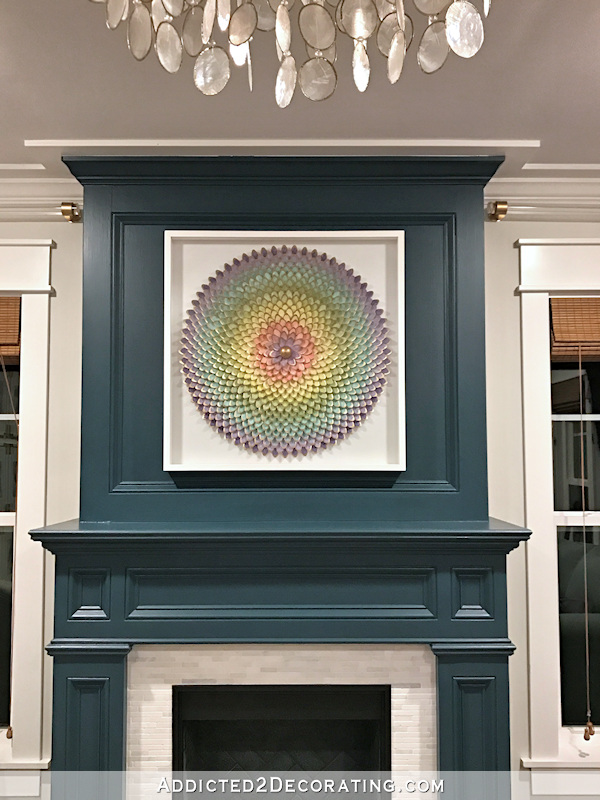 Addicted 2 Decorating is where I share my DIY and decorating journey as I remodel and decorate the 1948 fixer upper that my husband, Matt, and I bought in 2013. Matt has M.S. and is unable to do physical work, so I do the majority of the work on the house by myself. You can learn more about me here.
I hope you'll join me on my DIY and decorating journey! If you want to follow my projects and progress, you can subscribe below and have each new post delivered to your email inbox. That way you'll never miss a thing!